A Royal Tribute To Herb Kane's Work

By
.(JavaScript must be enabled to view this email address)
Wednesday - November 02, 2011
|
Share

Del.icio.us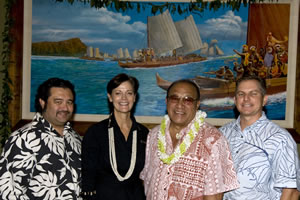 Rob Iopa, Kelly Hoen, Peter Apo and Greg Dickhens at the Royal Hawaiian with Herb Kawainui Kane's final work. Leah Friel photo

.(JavaScript must be enabled to view this email address)
The next time you go to the Royal Hawaiian Hotel, take a moment to appreciate a stunning work of art depicting an important milestone in Hawaii history. It is the final work from master artist and historian Herb Kawainui Kane. The painting, "Kamehameha's Landing," hangs in a place of honor at the entrance of the venerable Monarch Room, which architect Robert Iopa calls "the best room in Hawaii. Everyone wants to have their events there, right?"
Iopa, president of the Historic Hawaii Foundation and head of WCIT Architecture, oversaw the remodel of the Royal Hawaiian. It was he, along with Kane's longtime friend Peter Apo, who approached the Royal Hawaiian about commissioning the painting based on a sketch Kane had drawn 20 years ago.
I spoke with Apo the night the painting was blessed. This was, he says, the perfect way to honor the memory of a man who brought Hawaiian history and culture to life:
"It's significant because it was Herb's last major work. It is one of the great historic moments in the evolution of Hawaii. It depicts Kamehameha the Great's invasion of Oahu, which occurred in Waikiki. And, of course, that ended at the battle of the Nuuanu Pali. It took him more than 20 years to finally get around to doing this piece that he wanted to for a long time. His health was ailing a little. And he was worried that he wouldn't be able to do very many more large pieces that require you to stand for hours and walk up and down, you know, like a mural."
As it turned out, Kane's health did fail him before he was able to finish the painting. At the time of his passing, it was only 85 percent complete.
"But if you look at it, you can't tell that it's unfinished. So I imagine that as a work of art coming from an artist of his stature, it's a really valuable piece, particularly since it's his last."
Apo speaks eloquently about the impact Kane had not only on his life, but also on the attitudes, beliefs and cultural reawakening of all Hawaiians.
"Over the years we spoke a lot about Hawaiian culture, about Hawaiians and the struggle for self-determination, etc., and how there was a need to document Hawaiian history accurately to re-create the history that restored the dignity to the Hawaiian people, their honor.
And Herb did that."
Kane's paintings depict Hawaiians in every phase of their lives. Every time I come across one of his works I am struck by the grace, the accuracy and the attention to detail he lavished on everything from sweeping historical scenes to simple portraits of everyday Hawaiians.
"He gave Hawaiians a reflection in the mirror that they never had before," Apo says. "When you look at his body of work, he devoted equal amounts of attention to other aspects of Hawaiian life from what people looked like, what women wore, the fashion of the era and how different people depending on their station within the culture dressed, the utensils that they used, the houses. All in incredible detail."
Apo says he owes a lot to his friend for helping him to understand what it is to be Hawaiian.
"I grew up in an age when it wasn't really that cool to be Hawaiian," he recalls. "Our parents were trying to get us to assimilate into western culture, so it was not a good time. Herb, through his brush and pen, his pictures and his storytelling, really helped people like me, from my generation, to understand and to actually experience through his work this great heritage that we have to celebrate."
Kane was not a man who valued fame. In fact, he shied away from accolades.
"Probably the thing I appreciate most about Herb was his humility," Apo says. "Hawaiians call it ha'a ha'a. Herb was so focused on his work. He really was not excited about getting a lot of attention or being put on a pedestal, the way he deserves to be on a pedestal. His humility really showed up in his instructions when he passed away. He didn't want people to make a big deal out of the funeral, which he figured people might want to do."
Herb Kawainui Kane died March 8. He was 82.
His wife, Deon, carried out his wishes. Apo says, "His ashes were quietly spread by a few close friends at Kealakekua Bay, and it happened very, very quickly. So one day you read in the paper Herb Kane died, and within another few days it was done. That was Herb."
So the next time you're at the Royal Hawaiian, go see the painting and be impressed. And then say a big mahalo and aloha to Herb.
Most Recent Comment(s):