A Sign Of The Power Of Words

By
.(JavaScript must be enabled to view this email address)
Wednesday - May 23, 2007
|
Share

Del.icio.us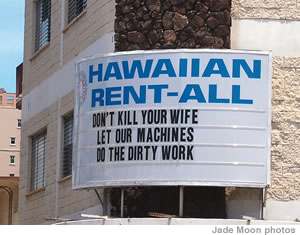 The message on the Hawaiian Rent-All sign is ever
changing
If you've lived on Oahu for any length of time, you probably know about that big sign-board atop the Hawaiian RentAll building on South Beretania. When I was a kid I loved those quirky messages - I couldn't wait to see what was on the board every time we drove into town. Sometimes they were funny. Sometimes I didn't get the joke. But it was part of our local culture, like McCully Chop Suey and Leonard's malasadas.
But last week I received a couple of e-mails and a phone call about the latest sign. Check it out, they said. Not nice, I was told, and it sends a terrible message. I wanted see for myself so I hopped in the car and drove over. Here's what it said:
"Don't kill your wife, let our machines do the dirty work."
Yikes.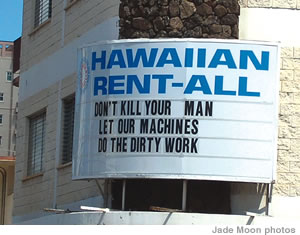 Do you get the joke?
A couple of women on bicycles were waiting to cross the street. I saw them point at the sign and shake their heads. Before I could ask what they thought, the light changed and they pedaled off.
So I went inside and met the very nice owner of the shop, Paul Gibfried.
What, I asked, does it mean? I don't get the part about killing your wife.
Well, Gibfried said, it's not about killing anybody. It's meant to be "don't work your wife to death, let our machines do it (the work) for you."
OK, but could he see why some people would object to a reference to killing your wife?
"I get criticized when they're too milquetoast," he said. "I guess if you're an abused woman, it's not funny. But you're looking at it from one side."
He's right. I am looking at it from one side. Domestic violence is a blight that affects countless women and children in Hawaii.
But Gibfried made the point that it is getting harder and harder to just tell a joke. How do you navigate the PC minefield nowadays? How do you know when what used to be acceptable isn't anymore? How can any individual know where to draw the line when the entire country is confused about issues involving race, gender and violence? And when does sensitivity morph into censorship, and political correctness smother freedom of speech?
Imus, Limbaugh, Sharpton, even Larry Price here at home - each sparking outrage, support and debate.
On the one side are those who maintain that rampant political correctness, overzealous advocates and corporate timidity are getting out of hand.
On the other side are those who say we need to be better, more responsible human beings who understand that words have the power to denigrate and destroy.
We are a nation struggling to find balance.
I did not demand that Gibfried take the sign down - it wasn't that kind of conversation. I do strongly believe he has the right to say what he wants to say. Plus - did I say this? - he's an awfully nice guy.
I did, however, ask if he would think about it and consider changing it - knowing that thousands of women and children in our state are affected by household abuse. According to the Honolulu Police Department web site, officers spend anywhere from one-third to one-half their work time responding to calls commonly referred to as "domestics."
Doesn't the sheer size of the problem render it unsuitable for comedy?
Our discussion never got heated. It was polite, pleasant and respectful on both sides. I left not knowing what he'd do.
The next day I passed Hawaiian Rent-All. Here's what it said on the marquee:
"Don't kill your man, let our machines do the dirty work."
It's an experiment, he said when I called him. He wanted to see what kind of reaction, if any, he'd get. The other sign had generated calls. This one, so far, had generated none.
I'm curious about that, too. So take a look at the pictures on this page, and then, please, e-mail me if you have something to say.
Paul Gibfried and I would love to know what you think.
Most Recent Comment(s):