A Slam Poem For Aunty Puna

By
.(JavaScript must be enabled to view this email address)
Wednesday - January 18, 2006
|
Share

Del.icio.us
In an age when people are forgetting how to grow old, I wish to extend my birthday wishes to one of the most beautiful women in Hawaii - Leonetta Keolaokalani Osorio Kinard. But just call her Puna. Everyone does.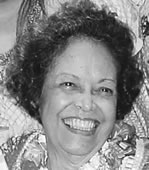 Aunty Puna
Keolaokalani means "life of heaven," and Puna's began in Hilo in 1925. Most of us can't even imagine what it was like way back then - but the kupuna tell us stories that make us want to visit. At Puna's big birthday bash at the Willows Restaurant (and boy, local people really know how to throw a party!) big brother Elroy Osorio told of climbing trees, beating his sister at jacks and buying and sharing crackseed. Auntie Helen Desha Beamer was Leoletta's vocal coach at Hilo High. The girl with the pure soprano voice won a singing competition at age 13 - and the prize was to come to Honolulu and sing at the Hawaii Theatre.
Of course, at a local birthday party you can't tell the story of a person's life without a few essential things. You have the friends and aunties and uncles who jump on stage to do the hula, and the hanai sister who flew in from the Mainland just for this day. You have ukulele and the slack key guitar player - and everybody serenades the birthday girl in Hawaiian. (Am I the only person in Hawaii who can't sing?)
At this party there was even a bit of slam poetry. This was the offering from a bright, proud member of the younger generation of Puna's large and loving ohana:
FOR AUNTY LEO
By Jamaica Osorio
We are gathered here today to celebrate We are gathered here today to recreate We all came to honor this woman we love Aunty Leo For you this is my poem written with love Today we told your story the story of how you came to be
We opened up our hearts and memories so that all could see We tried to repay you for the love we'd received
From you the woman who reminds me that that nothing's more important than this our family
This is why we've come to be all to build and illuminate this family here to fill our souls with endless memories
We're here to honor our mothers and to look out for our brothers
We learn from our aunties and our wise grandmothers Your job Aunty Leo was first to learn second to teach finally to love us unconditionally So thank you Thank you for being someone for me to look up to
Thank you for being the woman I can never outdo.
Being 80 years old is a wonderful thing if you have loved and are loved by so many people. At the end of the party, Puna had a surprise for all who had gathered from Hilo, Oahu and the Mainland to share in her joyful celebration. This beautiful woman walked onto the stage on the arm of her big brother Elroy, and sang Lei Aloha Lei Makamae.
And yes, her clear soprano voice soared, just like she was a girl of 13 again.
Most Recent Comment(s):