A Therapeutic Walk In The Mall

By
.(JavaScript must be enabled to view this email address)
Wednesday - September 27, 2006
|
Share

Del.icio.us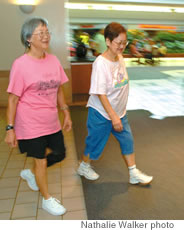 Gerry Young (left) and Mae Togo take a stroll in
Kahala Mall
Bess and Harry Chang were married for 40 years, and when the end drew near for Harry, they both thought they were ready. He had, after all, been sick for a long time. They had talked a lot about death - his death - and Bess was comfortable with the subject. She thought she would be prepared when he finally passed away.
She was wrong.
"When he went, it was very difficult for me."
So difficult, she turned to the organization that had eased her husband's final days. The people at St. Francis Hospice had helped Harry die - now Bess needed them to help her live.
That is how she ended up talking to me in the cool of Kahala Mall at 8 in the morning before the rush of shoppers. She and about 10 others who gather here regularly are almost like a family. What binds them together is loss - each has experienced the death of someone close.
They take part in a program called "Walk in the Mall," and Christa Freeze is the volunteer group leader. She's also a bereavement counselor and a social worker.
Freeze says, "Walk in the Mall does several things for people who are grieving. First and foremost, it gets them out of the house."
It's important, Freeze says, not to let the grieving person become isolated. It's what many tend to do as they struggle with the shock of losing a spouse, a sibling, a parent, a child. Freeze knows they are experiencing what may be the purest pain they have ever known. What she helps them understand is that working through grief cannot be hurried. It takes time. and it takes the courage, according to Freeze, to experience the deep emotions and to accept them in order to get to the other side. Something as simple as a walk in the mall helps in several ways, "It gets them physically active," Freeze says. "It's socialization. It's support."
It was a lifeline for Bess Chang. When she asked the hospice for help, she received it. She started by attending group bereavement sessions about once a month.
"The hospice really, really helped me. But after a while those meetings weren't enough for me."
Bess needed more. She was seeking something else to ease her profound loneliness. So when they asked her to become a volunteer, she says, "I jumped at it."
Bess received five weeks of intensive instructions on how to be a volunteer. She has been helping grief-stricken survivors ever since.
"I do on occasion talk to patients who are lonesome. And I find it so worthwhile even now, to relieve loneliness."
In the eight years since her husband died, Bess has experienced the worst of life - the pain, the loneliness and the anger. But she is finding that, by helping others, she has found a path to healing herself.
"I really do feel that I've become more outspoken. I do things alone that I wouldn't do before. I feel that hospice changed me a lot. "
For a while after Harry died Bess thought she had lost her sense of humor. Nothing made her smile. Nothing made her happy. And then one day as she was sitting in front of the TV, she was startled by a sound. It was laughter, big, loud, uninhibited laughter.
"It was me!" she says. "That was the start of the beginning."
Bess was coming alive again. Today Bess walks with others who are experiencing that same aching sense of loss. She talks a little, but that's not what they need or want. Mostly, she listens. They all have stories to tell, emotions to let out, guilt and shock and numbness to work through.
She knows. And she feels good about the fact that she is easing their pain, while healing her own.
For more information on St. Francis Hospice, call 595-7566. For information on the upcoming benefit on Oct. 6, "Art ... And All That Jazz," call 547-6877.
Most Recent Comment(s):