Aloha to Another Island Tradition

By
.(JavaScript must be enabled to view this email address)
Wednesday - August 24, 2005
|
Share

Del.icio.us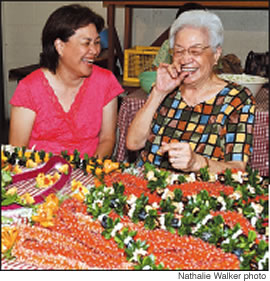 Angel Yamashita shares a laugh with her mom,
Sweetheart Lau, at Sweetheart's Lei Shop, which is
closing Saturday
Sweetheart really is her name. And for six decades this wonderful Hawaiian woman has had the best job in the world — she is a lei seller.
She was a teenager when she began her career. It was the 1940s, a time of grand ocean liners and majestic navy ships chugging into Honolulu Harbor. Boat days, they were called, and visitors streaming onto the pier were greeted with hula dancers and young women bearing armfuls of blossoms strung together into Hawaii's fragrant symbol of aloha.
"Plumerias," Sweetheart remembers, "bougainvillea, hibiscus. All the ones that you find growing all over the place. That's how it was in the olden days. Just you pick what you have in your yard or wherever you can go to help yourself. Make the leis, go down and sell it.
"All the people from Waianae, Waimanalo, Papakolea. All the tutu, the kupunas. They would all come with their homegrown flowers. That's how it was."
Sweetheart learned the tricks of selling. She would pick red hibiscus and stand away from the others. When the nurses came off the Mercy ships they would see the pretty young Hawaiian girl from afar, bright red blossoms cascading from her arms. They would ignore the other lei sellers and make a beeline for those red flowers. The competition for business was fierce, and they even had pricing wars.
"We take all our plumerias, and we say 'two for dollar.' And somebody would say, 'three for dollar.' And then the last one would say, 'four for dollar. That's how we used to hustle our leis in Irwin Park."
Lei, as we all know, are no longer a quarter apiece. And most of the flowers aren't homegrown anymore. But Sweetheart continued her business of aloha. The lei shop that bears her name has been a fixture in Chinatown for decades. And it's been a family affair. Sweetheart's daughter Angel (yes, Angel!) says she and her four brothers and their families literally grew up in the back of the shop.
"We gave our all and worked real hard. And plucked more ginger and more orchids," she says. But her real love was working with customers.
"Sharing knowledge of the lei — pikake, pakalana, ginger, maile, hala, cigar. And the newer ones. Kukui. Mock orange — I like every lei.
"We've seen a lot of children that have gone to grade school, that have entered high school, that have graduated and are in the work force, that are still our customers."
It's been a good life. But now Sweetheart is retiring. The business has changed much through the years. It's tougher to turn a profit. Most of the flowers are shipped in from other countries. And nowadays you can buy lei everywhere — Foodland, Safeway, Longs and 7-Eleven.
So Sweetheart wants to move on and dedicate her life to something else. Something even more fulfilling.
"We love God. And we would love to spend all our time doing his will."
It will be hard to let go. But they know they have been blessed. After all, they've had the privilege of sharing the best of Hawaii with friends, family and strangers.
"That's what the lei is," Angel says. "The gift of aloha for anyone and everyone, anywhere and everywhere."
"And when you put it on," says Sweetheart, "it's so beautiful."
Sweetheart's Lei Shop closes its doors for the very last time this Saturday, Aug 27. It's another little bit of our local history gone for good. Another treasure lost to time.
But there is a way to honor the tradition. Go buy a lei. Get the most fragrant one. And give it to someone you love.
Most Recent Comment(s):