Boy With The Jaw-dropping Talent

By
.(JavaScript must be enabled to view this email address)
Wednesday - May 19, 2005
|
Share

Del.icio.us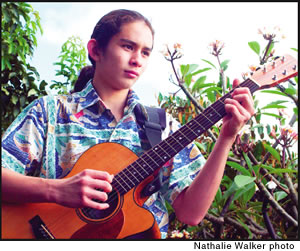 Danny Carvalho: born to play guitar
I can imagine few things more rewarding in life than to watch your child surpass you. What a thrill to discover a talent, nurture it and help it grow.
And what a responsibility.
Danny Carvalho is an 8th grader at ASSETS School. When he was 9, his parents gave him an old guitar to fool around with. What he did with it astounded them.
"We had no expectation," said Danny's mom Ann.
"No," said his dad Eugene, "what happened made our jaws drop."
What happened is that little Danny began to play slack key guitar. And Eugene and Ann soon realized they had a prodigy on their hands.
Gene recalled one illuminating moment: "I'm sitting at the table one day and strumming my guitar and he said, dad, your third string's low. And I looked at him. I checked. And sure enough, third string was low. I thought, man, this kid's got an ear. He can hear everything."
In that first year, his parents told me, Danny learned 80 songs, mostly by listening to CDs and playing.
Danny said he simply wanted to do nothing else.
"Mom and dad started to worry a little bit that I would hurt my hand 'cause I was playing so much."
Something happens when he hears the music.
"If the piece is easy enough I can maybe listen and pick it up after listening to it a few times. Most of the time I have to get to know the piece a little bit first, get the feel for it."
And that's the wondrous part to folks like me. I love music, but I can't make it. What Danny has looks like magic to me. And his dad says they have no idea where it came from. Both he and Ann play instruments, and their daughter is with the Honolulu Youth Symphony. But none of them has Danny's genius.
"He listens, it goes in his ear, it processes and it comes out his fingers," Eugene said.
But good as he was, he could be better. Danny needed a teacher. They found Ozzie Kotani, a respected teacher and slack key artist. Soon mentor and pupil were performing together. Ann Carvalho was proud. But even more important than her son's obvious talent was his enjoyment of the music.
"When he was young and he performed, he smiled and had such glee and pure joy," she said. "He bounced out of his seat in the middle of a performance because he was having so much fun. I think our priority is to preserve that."
Which is why they put no pressure on Danny to perform. You may catch him on stage if you're lucky, but don't expect him to turn pro. Danny doesn't see himself doing it for a living. That would make music too much like work. He prefers playing for fun.
Lately, though, there has been something that's taken his attention away from his guitar. He's not into sports or video games. But he is noticing girls.
After all, he is 14.
Most Recent Comment(s):
Commenting is not available in this weblog entry.