Caught In The Egyptian Revolution

By
.(JavaScript must be enabled to view this email address)
Wednesday - February 09, 2011
|
Share

Del.icio.us
"I knew that trouble was brewing during orientation, when one of the lecturers said that there was going to be a protest day, which coincided with the national police holiday. At that point, I didn't believe that it would actually take place. I didn't take it as a potential threat at that time."
Richard Gima is a local boy through and through — a small-town kid from laid-back Lanai who wanted to see the world. The last thing he expected was to be caught up in a revolution.
And yet, there he was, sitting in a dorm room in Egypt, watching a revolution unfold on TV. It slowly dawned on him that his college experience was about to come to an abrupt end.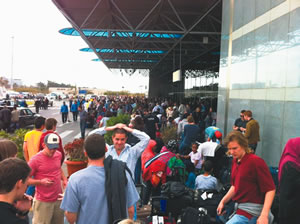 A scene at the Cairo airport last week
Gima described his evacuation to me via e-mail, the easiest mode of communication for us as the young man, 18, is currently in Muscat, Oman. (Yes, I had to look it up. The Sultanate of Oman is bordered by the United Arab Emirates, Saudi Arabia and Yemen, the Arabian Sea on the southwest and the Gulf of Oman on the northeast.)
His island roots may have shaped Gima's small-kid time, but he had his eyes locked on a bigger, wider world. He started his freshman year of college in London, and then decided to transfer to the American University in Cairo to major in Arabic and Middle East studies.
"When I first arrived, I fell in love with the country, its people and everything about it.
Everybody in Egypt is welcoming and always willing to help if you need it," he says.
"The protests started on Tuesday and it escalated real quickly. At first, there wasn't a really high participation, so I thought that I could wait it out and that it would-n't escalate to anything more than a small protest. But it quickly turned into an all-out revolution."
Initially, Gima and his friends were simply curious. He didn't understand everything that was going on but he could tell that the people were very serious — and very, very passionate: "It is their country and they are extremely patriotic."
When his father called to tell him about the evacuations, he knew he had to leave. He decided to get on one of the U.S. government's charter flights rather than take a risk on a commercial airliner.
"Since there was no Internet service, I was not sure whether the airport workers would even have a record of my reservation. I chose to evacuate through the U.S. government to Istanbul, Turkey."
At this point he had no sense of urgency. He did not feel he was in any danger. "My rationale was if I have a chance to get out now, I might as well take it. I was not sure what the situation would escalate to, and I didn't want to take the risk of being stuck in Egypt permanently."
Once the decision was made, Gima ran smack dab into the reality of evacuation. It was, basically, a lot of waiting, uncertainty, waiting, frustration and more waiting.
"I got my things together and we met down in the AUC (American University Cairo) dorm lobby an hour later," he says. "The process of evacuating was difficult and tedious. I went to the airport in AUC-provided buses, and stood in line for almost eight hours. After they processed us, we got onto the flight and waited for two more hours before we could leave. The flight was a priority for families with children 5 and under, so it was mayhem with screaming babies. A man had to receive medical attention on the flight as well."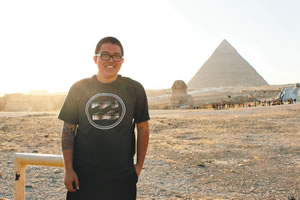 Isle native Richard Gima is a student in Cairo
Gima left Cairo on Monday, Jan. 31, and arrived in Oman, on Wednesday morning. He already wants to go back to Egypt.
"I am currently staying with my best friend and his family in Muscat for about three weeks," he says, "until it is safe for me to return to Cairo."
He knows he's being optimistic and that it may not be that easy. The situation in Egypt has deteriorated. Foreigners and journalists have become targets of violence, and many have simply disappeared. What was once a beautiful and welcoming country is now a frightening and hostile place.
"On the way to the airport, it really hit me how lucky I am that I was able to get out," he says. "Egyptians now have to worry about the fate of their country, while I could just simply leave and choose to return to the United States if I wanted to. They don't have any options."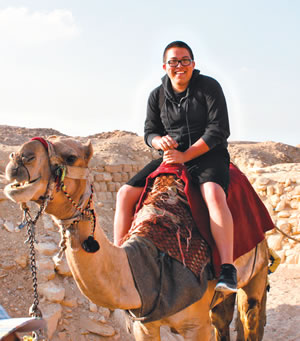 Gima says he instantly fell in love with Egypt
And Gima has already learned more than any college course could teach.
"I have learned to be extremely grateful for what I have," he says. "Back home, we worry about the most insignificant things, such as what to wear or what party to go to.
"In Egypt, they have to worry about survival, feeding their kids, and trying to rebuild their government.
"I want people to understand that we need to be grateful for what we have and be grateful that we live in a democratic society, where we are free to do what we want."
Gima's family wants him to come home. He's not ready for that. Right now he is placing his hopes — and his faith — in the people of Egypt.
.(JavaScript must be enabled to view this email address)
Most Recent Comment(s):