Circle Of Life Sows Seeds Of Hope

By
.(JavaScript must be enabled to view this email address)
Wednesday - October 17, 2007
|
Share

Del.icio.us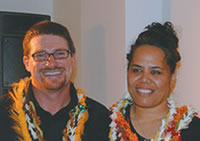 Gary and Kukui Maunakea-Forth
It was a beautiful day. As I navigated a narrowing road that stopped at an open field, I tried to remember the last time I'd been on a farm. It was a long time ago.
Gary Maunakea-Forth - yes, that is his name - drove up in a tractor as I got out of my car.
"You came dressed for work," he said in a twangy New Zealand accent. I was. Jeans, button down shirt, leather sneakers. You can take the girl out of the city and she'll do OK as long as she's dressed the part.
I was here at Ma O Organic Farms, two-and-a-half acres fringed by the Waianae mountains, to get an insight into what should be a profoundly simple concept - food, locally grown and locally eaten. Gary and Kukui Maunakea-Forth are cultivating lifestyles and futures on this modest perch of land.
Gary handed me a cold bottle of water and then gave me a tour of the farm. We walked past Meyer lemon, mango and tangerine trees and by rows of kale, basil and chard. What grows here ends up in stores such as Kokua, Umeki and Down to Earth. The salads of baby mustard greens, baby lettuce and arugula make appearances on plates in the best restaurants in town.
As the farm's name implies, everything is organic. Instead of importing fertilizer, which costs a fortune and uses up too much energy, they make their own. They bring in tons of cattle manure and compost it for six to nine months. By the end of the process, what's left is nutrient-rich black soil, perfect for growing food.
Is that, I wondered (remember, I'm a city girl), what that funky smell was? Well actually, no. The odor was from a cattle farm a good distance away. In fact, we stood next to a giant mound of composted soil and the only smell was that of fresh, clean dirt.
Gary and Kukui are from different parts of the world - he's from Kiwi-land, she's home-grown from Waianae - but their backgrounds are surprisingly similar.
"I grew up in a community like Waianae," he said. "We were surrounded by agriculture."
He came to Hawaii to play rugby and ended up graduating from UH. He met Kukui, another UH graduate, at a community meeting, and their chemistry clicked. Marriage, children and a shared commitment have shaped their lives ever since.
"We both had been working in youth areas," he said, "and we discovered that there weren't many things out there for kids right out of school."
What they wanted was a way to give Waianae teens a path to a broader, better life. That's when they read about something called the Food Project, started by a community activist in Boston.
"They developed a product people wanted," said Gary, "while tracking kids from high school through college. Some of them went to Ivy League schools."
So when Gary and Kukui started the nonprofit Ma O Farms, they had two goals. One was to change the way we think about food. "We import everything," Gary said. "It would be great if we could start producing our own food."
The second was to influence young peoples' lives. The farm does both.
They recruit graduates from Waianae High school to help them work the farm. Gary and Kukui teach them, nurture them and send them off to college with scholarships and stipends. They sponsor, along with Leeward Community College, the Ma O Youth Leadership Training program.
The needs are tremendous. Gary said only "five or six from Waianae High School graduate from college" each year. He talked about the poverty, the homelessness, the lack of prospects for too many Leeward Coast youngsters.
"Our take is there needs to be something generational, and it's got to have a Hawaiian context."
People are noticing. Ma O Farms was honored by Hawaii Home and Remodeling in its recent Who's Keeping Hawaii Green awards event. Upscale restaurants like Alan Wong's, Nobu and Kona Brewing Company are some of the prime supporters of Ma O Farms. Alan Wong recently held a fundraiser for them. Gary and Kukui aim to keep the momentum going. They're trying to purchase nearby land to grow more crops and to reach more young people.
Hawaiian kids working Hawaiian land, local people buying and eating locally grown food. It's the circle of life - and it's true sustainability. Gary and Kukui are sowing seeds of hope.
Most Recent Comment(s):