Connecting With A Deployed Dad

By
.(JavaScript must be enabled to view this email address)
Wednesday - May 04, 2005
|
Share

Del.icio.us
I watched a boy cry last week, and it made me remember.
Recently we put together local families with their husbands and fathers stationed in Iraq. KGMB producer Norman Lee conducted the satellite reunions, I met the families, and later wrote the stories that aired.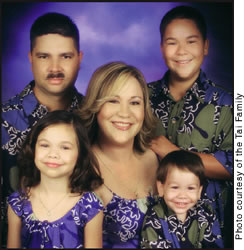 Staff Sgt. Andre Tai and his family; that's
Aaron at top right
One of the most unforgettable moments for me was watching Aaron, the 13-year-old son of Staff Sgt. Andre Tai, try to hold back tears as he saw his father on the TV monitor. He was not successful. He cried as he watched his dad, cried when his father asked him how he was doing with football practice. Aaron was so emotional he was almost speechless.
I have to tell you, I could relate to what he was going through.
I wasn't as old or mature as Aaron when my own father went to Vietnam. But there are a few things I remember. One that I've shared with you, our readers, is the memory of my mother crying as she read his letters. That will stay with me forever.
But there's another memory. There was always, for me, the deep desire to be good and to be strong, because to be otherwise would have disappointed my father and let down my mother. I was way too young to understand the ramifications of war, but I knew my father wasn't there, and my mother needed us.
Aaron is older than I was back when my father went to war. He fully understands what's going on in Iraq. I'm sure he knows the perils his father faces every day he is there. And he has gone a huge step beyond what I did when I was a child. He has become his mother's right arm. She told me she doesn't think she could do without his help. Aaron has a 2- year-old brother, a 5-year-old sister and another sibling due any day now. He takes his job as young man of the household seriously. When Aaron let his tears flow, it wasn't from weakness. Aaron is strong. But he had suppressed his feelings ever since his father left, months ago. And when he saw him on that TV monitor, when he heard his voice, Aaron became what he really is inside— just a kid who misses his dad. There is an obvious bond between father and son. Andre Tai loves his family. He is their rock. But he also expects — and needs — them to be strong in return.
And he sets a good example by being the type of man who says what he means and lives according to his beliefs. His wife Janel, in an e-mail, told us that shortly after 9/11 she asked if he would consider quitting the Hawaii Army National Guard.
His reply?
"I have reaped the benefits from the Army for over 20 years and I am not about to turn away when they might need me."
It was at that moment, Janel wrote, that "I realized and confirmed, without a doubt, what a wonderful man he is and have total respect for him. I am very proud of my husband and even more proud to be his wife."
Aaron cannot speak as eloquently as his mom, but I know he feels the same. He is proud to be the son of such a man. He is proud of his family.
What he may not realize is that his parents feel exactly the same way about him, and that he is worthy of their pride and respect.
And he does remind me of the fierce pride we all had in our own Army family. No matter what happened, no matter where my father was sent, and no matter where in the world we moved, we were a unit. We belonged together.
I'm glad the Tai family gave me the chance to remember that. Aaron, we're all proud of you, too. You and your family are not alone.
.(JavaScript must be enabled to view this email address)
Most Recent Comment(s):
Commenting is not available in this weblog entry.