Death Never Observes The Holidays

By
.(JavaScript must be enabled to view this email address)
Wednesday - December 28, 2005
|
Share

Del.icio.us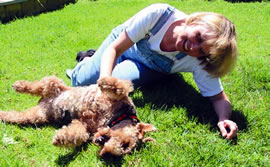 Dr. Eva Shaw with her Welsh terrier - interaction with a
pet is one way she suggest to overcome grief from the
loss of a loved one
When death invades the holidays, it kills a little part of all who are left behind. Hearts spill over with grief instead of joy, and the
day of Jesus'birth becomes a sad reminder that what is given can also be taken away.
My Auntie Gladys died the weekend before Christmas. My father, knowing we were throwing a party that night, delayed telling me until the next morning. Immediately I thought of my cousins and my Uncle Wilfred. Cancer had finally taken their mother, wife, friend and the rock of their family. I had not been close with them for years, but still - I had the memories.
As kids, we all got together for the holidays. We had, I thought in my child's mind, so many Shiroma cousins! Aiko, the talented one, always singing and dancing. Annie with the big liquid eyes, pretty Allison, rascal Wendy, and Ross, the baby brother. I remember feasting and playing in their big house in Kaneohe, all decorated with tinsel and fluffy cotton snow. It was a completely innocent, enchanted time.
Now this family is enduring what has to be the most bittersweet holiday of their lives. And all I can tell them is, "I'm sorry. I'm so very sorry."
But that's OK, according to Dr. Eva Shaw, the author of What to Do When a Loved One Dies: A practical and compassionate guide to dealing with death on life's terms. She says that's about the only thing one can say when a family is experiencing such a tremendous loss. Shaw is a writer who speaks to people around the country of grief and recovery.
"Grief doesn't go away," she told me, "and it's not an easy journey. You're never the same person afterwards."
Shaw says there are tools that can help people move through the extreme pain and know they will recover. But it takes time. And it takes the understanding that those who have lost their loved ones will go through all the phases of grief. And they may experience those phases not once, but again and again, until finally they come to the final one - acceptance.
Our job as their friends is to be there. To offer a hug, a pat on the arm, words of love and support. People in pain are hungry for human touch, and the worst thing you can do is pull away, as so many of us do when we're not sure how to act or what to say. After all, the holidays are when families are supposed to be pulling together, and their world appears to be coming apart. This is the time they need us most.
Shaw is coming to Hawaii on behalf of Hospice Hawaii to give a talk on how to deal with the details of death - what to do before and after a loved one dies. She speaks Wednesday morning, Dec. 28, at the Queen's Medical Center. Breakfast is at 9 and the program is at 10. And only two days later, my aunt will be laid to rest.
Shaw says that as we in the baby boomer generation find more gray hairs on our heads, we will be thinking more and talking more about grief and recovery.
I know my uncle and my cousins feel bereft and empty right now. They may feel angry, or cheated from having her with them at Christmas. She created many of their holiday traditions. Now they must carry on - and will - keeping some of those rituals and creating new ones.
I do know that my aunt was fierce, strong and determined. She was kind, and helped me at a time when I needed a boost in life. She knew the value of education and most of all she believed in family.
Every year I receive a card at Christmas time from the Shiromas. I'm looking at the picture right now. My Auntie Gladys is sitting in the middle wearing a pretty pink dress. Her hair is white as snow, her body tiny and frail. But her husband's strong hand is on her shoulder - and her children and their spouses and all of her grandchildren surround her. It is a picture overflowing with laughter and filled with life. It is Gladys Shiroma's legacy of love.
"What to Do When a Loved One Dies: A practical and compassionate guide to dealing with death on life's terms" is available from www.writeriffic.com or 866-244-9047.
Most Recent Comment(s):