Early Lessons On Living Green

By
.(JavaScript must be enabled to view this email address)
Wednesday - November 28, 2007
|
Share

Del.icio.us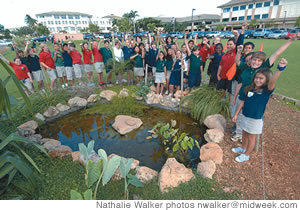 Island Pacific Academy teachers and students participate in their sustainability project in Kapolei
My apologies in advance to the wonderful fourth-grade teachers at Island Pacific Academy, Luann Sackrider and Lisa Jeffers-Fabro. I spent almost an hour interviewing the two of you at your beautiful Kapolei campus, and I'm using very little of it in this column. But that is only because you are so effective at your jobs that your students (who are now fifth-graders) sort of stole the show.
Sackrider and Fabro guided the students through three earth-saving projects. The first was school-wide recycling. The kids were going to have a party with the proceeds from all those cans, plastic, glass and paper. Instead, at the suggestion of student Michael Brenner, the students enthusiastically donated all the money to their second project, Malama Popoki, a program that spays and neuters feral cats.
And finally, all the fourth-graders made weekly trips out to Waimea Valley Audubon Center, where they got down and dirty in muddy water, pulling out invasive plants that had taken hold in the native streams. They also cleared trails, propagated native plants and maintained an edible garden.
The kids won awards for their efforts, including recognition from Hawaii Home + Remodeling Magazine. But more important than that, they learned a lifelong lesson in living "green."
I asked them how their experiences had changed their outlooks on life. Here's some of what they told me:
"The experience at Waimea made me realize that anyone who puts the thought into helping will make a difference." -Malina
"One part of me has died and has been reborn a tree hugging nature freak." - Dustin
"I feel I understand the ways of the Earth now." -Marlies
"After I went there, I started helping the environment." - Jordan Y
"Clearing ponds of Elodea (a non-native aquarium plant), taking out branches and sticks, and even compost ... We were helping the environment even sometimes without knowing it." - Gavin
"Just by opening a new trail will make others realize that 'Oh, look how this trail is being cleared. I think I should start helping, too.'" -Jami
"I thought it would be hard labor, but it was actually fun." - Noah
"I have dreams of what it would be like if for just one week, we could stop everything we are doing and clean Hawaii." - Gini
"It is very important to recycle or the trash will end up in the ocean and the animals will die." - Andrew
"Everyone can make the world a better place just by picking up one piece of trash a day." - Gina B
"Saving the Earth is a big thing but let's try to save a state first." - Taylor
I think the whole Waimea and the recycling project helped me realize that keeping Hawaii green is easy when you try."
- Courtney
"We can make a difference to clean together, help together and be a team together. That is how we help Hawaii and the natural world." - Kaulana
"The experience helped me realize that two fourth-grade classes who help our environment can make a BIG difference." - Jenna
Yes they can.
And so can two inspirational teachers who ignited a passion in 32 young minds. Lisa and Luann, for making a difference in their lives, and ours.
Most Recent Comment(s):