Getting Around Transplant Barriers

By
.(JavaScript must be enabled to view this email address)
Wednesday - February 22, 2006
|
Share

Del.icio.us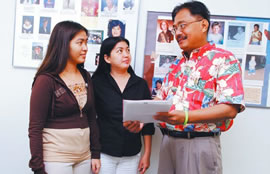 (from left) Recipient Julie Matro and her donor sister
Evangeline Soy meet with program coordinator Tony
Sagayadoro at the Organ Donor Center of Hawaii
You will never have the pleasure of meeting Ernesto Florendo. The 58-year-old man is dead. The shame of it is that the kidney that could have saved his life was avail-able-but maddeningly and tragically just out of reach. His nephew, who was willing to donate, was perfect match. But the young man lives in the Philippines, and that fact alone doomed Ernesto Florendo to death.
Florendo was one of about a dozen people on the transplant waiting list in Hawaii who found willing and viable donors in the Philippines but were unable to bring them to the United States. There were several reasons: paperwork, security, 9-11. Together they created a bureaucratic barrier that meant almost certain death for transplant patients.
But now there's hope.
His name is Tony Sagayadoro. Sagayadoro is a modest man who doesn't want to take the credit for turning things around. But through his efforts the barrier that blocks donors from recipients may be cracking - just enough to make the difference between life and death for some very sick people. The proof of that is in the shining eyes of Juliet Matro.
Matro, 28, sat in front of me beside her sister and life-giver, Evangeline Soy.
"When they found out I had kidney failure," Matro told me, "I went home and told my family that I'm going to need a kidney transplant. They said all of my siblings were willing to donate."
And Soy turned out to be a good match. The only catch - Soy and the rest of Matro's family members all live in the Philippines. Soy's chances of making it in were not good.
Enter Sagayadoro. His job at the Organ Donor Center of Hawaii is to increase awareness among minority populations. But after seeing the situation with Filipino donors, he decided he had to do much more. In Matro's case, he took control of the process. He personally visited U.S. congressional members Case, Akaka and Inouye. He lobbied local law-makers Abinsay, Arakaki, Magaoay and Finnegan. He persuaded each of them to intervene on behalf of Matro.
Just as important, he shepherded through the daunting amount of paperwork generated in both countries. He knew that the major problem since Sept. 11 was getting through the beefed-up security requirements of immigration.
"We had to find ways around the barriers," he said.
The American embassy in Manila needed reassurances on paper on several key points. The person willing to donate had to show strong ties to the home country, financially, professionally and economically. In other words, they had to have strong reasons to go back home.
"If they cannot prove that, they will be declined," Sagayadoro says. "That's because so many coming in won't go back home. - 80 to 90 percent."
So part of Sagayadoro's job is to make clear to the families that this is a chance to help a loved one, not to get a foot into the U.S. He worked tirelessly to make sure every requirement was met, every question answered to the satisfaction of every party involved.
Sagayadoro was successful. Soy's application was approved late last year. It was the first since 9-11.
"I love my sister," Soy told me in slightly halting English, "I want to help her. I didn't think about danger.
"When I found out I could go I was happy."
Soy and Matro know full well the responsibility placed on their shoulders. They realize a lot of other lives hinge on what they do now that the transplant is over.
"We have to set the example. The embassy has to trust us," Matro said. "We're doing this to help others."
Soy is going home April 29. And on the day I spoke with her, another donor entered Hawaii from the Philippines, thanks to Sagayadoro and his blood, sweat and tears.
Sagayadoro has proved it's possible to beat red tape, government confusion and fear. He doesn't want any more people like Ernesto Florendo to die.
This is his mission.
And it's personal. Sagayadoro himself had a transplant six years ago. Now he's using his second chance to help others live.
Most Recent Comment(s):