Girl Scouts Light Up Our Lives

By
.(JavaScript must be enabled to view this email address)
Wednesday - October 10, 2007
|
Share

Del.icio.us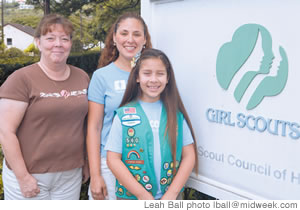 (from left) Jennifer Frisbee, Annette Martinez and Junior Girl Scout Karanina Martinez want to help you become more energy efficient
Karanina Martinez is 9 years old and already doing her part to save the world.
"I think it's important to save energy," the Junior Girl Scout says. She and about 50 of her scouting friends are going to be greeting City Mill customers this Sunday and asking you to help. It's part of the national "Change a Light, Change the World" campaign, which aims to encourage every American to make the switch to energy-efficient compact fluorescent lights, or CFLs.
Jennifer Frisbee is the coordinator of the Girl Scouts' Earth Smart program. She helped pull together a partnership that includes the Girl Scouts, Hawaiian Electric Company, U.S. Department of Energy, U.S. Housing and Urban Development, and the Department of Business, Economic Development and Tourism. Under their guidance, the girls earn a badge by learning about sources of energy, how to conduct an energy audit, and even the history of energy in Hawaii. An important step in the process is participation in the "Change a Light" promotion at City Mill.
Saving energy is already a family affair in the Martinez household. Karanina's mom, Annette, says, "We can't be wasting the resources. They're limited as it is. The Earth's not able to replenish itself."
And they practice what they preach by doing a lot more than converting light bulbs to CFLs. Karanina says, "We turn off the TV and lights and we unplug the radio ..."
And she and her mom believe it's very important to learn everything they can about conserving energy.
"Because if you understand," Karanina says, "then you can tell other people, so everyone can pitch in and save energy."
Her mother adds, "It has to start with the children."
When you go to City Mill this weekend you're likely to learn a lot about Energy Star CFLs. With the help of the Girl Scouts the staff will show you that CFLs come in a variety of shapes and styles for indoor use, outdoor use and enclosed fixtures. They can tell you which CFLs are appropriate for which fixtures, and can even show you a dimmable CFL, something a lot of people have been asking about. In other words, the spiral isn't your only option.
The EPA says that if every American changed just one light bulb with an ENERGY STAR qualified bulb, we would "save enough energy to light 3 million homes in one year and reduce greenhouse gases equivalent to the emissions of 800,000 cars."
It's a start.
Karanina and the scouts will be at eight City Mill locations this Sunday between the hours of 2 and 4 p.m. If you'd like more information on the Girl Scouts of Hawaii program, call 595-8400.
Most Recent Comment(s):