Giving Food And A Second Chance

By
.(JavaScript must be enabled to view this email address)
Wednesday - April 18, 2007
|
Share

Del.icio.us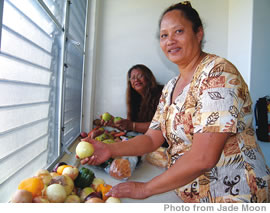 Joanne Enaena (in the foreground) and Zalei Kamaile
in the kitchen at the Hope For a New Beginning
Shelter in Kalaeloa
The following is part of a letter I wrote for the Hawaii Foodbank. With the annual food drive coming up this Saturday, I thought it appropriate to share it with you this week:
"Getting your life back after a catastrophe is not such an easy thing to do. I'd say losing your home and having to live on the beach pretty much qualifies as a catastrophe.
That's why I was impressed with two women I met recently, both residents at the Onelauena homeless shelter in Kalaeloa.
Zalei Kamaile and Joanne Enaena are in their 50s, and they have seen more than their share of the downside of life.
Now, in a sense, they are being reborn, given a second chance. It's not something they're taking for granted. They have seen what homelessness does to a person's spirit. And they know what happens when people lose hope.
"They've been beaten down too much," says Zalei, "they have no knowledge of where to go."
Now that they are in this place they do have somewhere to go - out and up. But even with a roof over their heads they know it won't be easy. Many have to learn to cope with things most of us do routinely, things like paying bills and budgeting money, being good parents, taking responsibility for their living spaces.
While they learn these basic skills, they need as much assistance as they can possibly get. And a big part of feeling safe and moving on is knowing they won't go hungry. The agency that runs the shelter, Waianae Community Outreach, is a member agency of the Hawaii Foodbank.
Joanne works in the pantry and takes obvious pride in her job. She takes inventory and does the ordering. Everything is clean and organized. When I was there I saw stacks of canned vegetables, sacks of rice and a freezer full of tortillas.
Joanne knows every aspect of keeping the pantry running smoothly. She and Zalei are recent graduates of a program called Forward March, which prepares them for work. They're proud of their accomplishment and I am proud for them. They have reclaimed their dignity and see their lives as meaningful. For the first time in a long time, they see a future that doesn't include sleeping in a tent and fearing for their safety.
It may seem obvious to you and me that providing food is essential for people who have little to call their own. Joanne and Zalei say they are grateful because it's that kind of generosity that made a huge difference for them.
"It gives us a lot of opportunity to save whatever money we have," Joanne says. And anything that gives them a little bit of an edge helps propel them forward to a better life.
"Hope comes again," Joanne says. And hope is what keeps them going."
The shelter is called, appropriately, "Hope For a New Beginning." The day I was there I saw a handful of the 100 children who eat there, play in the hallways, and cram into cubicles at night. Small as those rooms are, they are still a safer, more humane place for people to live than the raw environs of the beach, or the park, or a car sitting on the side of a road.
We have an opportunity to do a world of good this weekend. Those of you who have contributed to the Foodbank's food drive already, many, many thanks. For those who haven't yet, please join in. it's a good and satisfying way to give an awful lot of people what they need most - hope.
Most Recent Comment(s):