Going Solar Just Makes Sense

By
.(JavaScript must be enabled to view this email address)
Wednesday - December 10, 2008
|
Share

Del.icio.us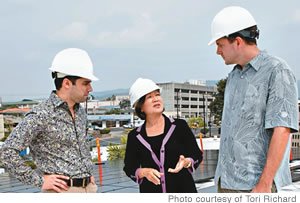 Josh Feldman (left), U.S. Rep. Mazie Hirono and Sean Mullen
They head businesses on two extremes of the spectrum- a 5-year-old upstart and an established kamaaina company- but together they form the perfect union of environmental vision and bottom-line practicality.
The picture says it all - Sean Mullen, president and founder of Suntech Hawaii, and Josh Feldman, president and CEO of Tori Richard, on the roof of the Tori Richard facility in Kalihi showing off an expanse of blue-black solar panels to U.S. Rep. Mazie Hirono. She's not the only one interested in the possibilities of this abundant source of renewable energy, and won't be the last. Solar makes sense in Hawaii.
"It was the easiest financial decision I've ever made," Feldman says.
That's because Tori Richard stands to save a ton of money. Solar energy now provides up to a whopping 95 percent of the facility's power. Feldman says that slashes its electric bill of $10,000 a month down to less than $500 a month. That's more than astounding. That's smart. And it's exactly why Feldman signed on.
"My primary motivation was economic," he says. "Any kind of altruistic benefit was really secondary."
It's the kind of thinking Mullen hopes will catch on as more CEOs look at ways to survive in tough times. Mullen started Suntech working out of his house in Kailua. It was a classic startup with a few true believers "gathered around the kitchen table." Since then Mullen has guided the company into a viable business that employs 100 people - salespeople, designers, installers, administrators. And the company is still growing.
"I didn't expect it to be this great," Mullen says. "We were at the right place at the right time."
If you are thinking of going solar but just aren't sure, look at the numbers. They speak for themselves. Not only do customers save on their electricity bills, but also installing the photovoltaic panels gives them big tax breaks in the form of 35 percent from the state and 30 percent federal. That means a client could see the system pay off in as little as three years.
Mullen says it's an easy sell. Commercial clients can see the bottom-line benefits, and residential clients are in it for the altruism. "They've got the passion for it," he says.
Before solar, Feldman had already seen the financial wisdom of going green.
"We had gone through a number of different conservation measures: retrofitted lighting in warehouses, reduced consumption. We replaced our AC equipment - even our windows have high reflective tints."
But they didn't take the next step, solar, until "HECO started raising the rates because of the oil. It suddenly made this more viable."
Feldman thinks going solar is a growing and healthy trend. "We were on the roof last week and we looked across and we could see another business putting a smaller system on its roof."
Now both he and Mullen are hoping that plunging oil prices won't take the edge off people's desire to change their energy-hogging ways. They see this decline as a temporary respite. Oil prices will rise again, and those who survive and thrive will be the companies that adjust accordingly.
Feldman, always the smart businessman, shopped around for the right solar contractor before selecting Suntech Hawaii.
"They're not selling warm, green fuzzies," Feldman says, "They're selling money."
Mullen sees it a little bit differently.
"We're selling the truth."
Most Recent Comment(s):