Green Changes Pay For Themselves

By
.(JavaScript must be enabled to view this email address)
Wednesday - February 27, 2008
|
Share

Del.icio.us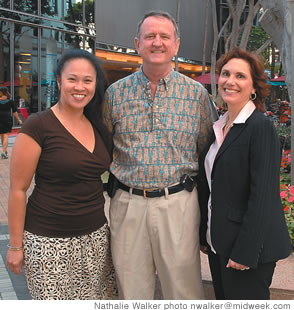 Sandra Bollozos-Fraticelli, Alan Tucker and Lisa D'Andrea
I talk a lot about individual actions when it comes to conserving energy. And as we're finding out, more and more people are "getting it." They're switching to CFLs, buying Energy Star appliances, recycling and even going solar if they can afford it. We've got a long way to go but at least we're starting to move in the right direction.
But in order to keep the momentum going we need to take a look around us-at our condos, hotels, hospitals, malls and office buildings. These are huge energy hogs with great potential for savings-both environmental and financial.
One of the best examples of a building that is doing all the right things is the Pacific Guardian Center downtown-a building complex doing big things along the lines of energy conservation. I sat down with the general manager Lisa D'Andrea, chief building engineer Alan Tucker and opperations manager Sandy Bollozos-Fraticelli, for a talk about energy and the bottom line.
Simply put, they told me, conserving energy pays off.
"It makes good business sense," D'Andrea said. "As property managers we have to go to an owner or landlord and say, hey, we have this idea here. This is what we can do; it's good for the environment. And then we have to prove how it's good for business so they can buy off on it."
D'Andrea can count herself lucky. Even before she came on board two years ago the building's owners wanted to be on the leading edge. Tucker, who's been the building's engineer for 11 years, said, "the owners have been very forthcoming with pursuing ideas for energy conservation.
"We were able to convince the owners to do a lot of these upgrades simply based on the reduction in energy costs that paid for the upgrades is less than three years."
That's right. They made their money back quickly and have been saving on their energy bills ever since.
One of the first things they did was upgrade their air conditioning system.
"In a building this size," Tucker explained, "40 percent of the electricity bill is for the cost of air conditioning."
The upgrades they made to the chillers and air handlers cost 1.25 million dollars, but "in the first year of operation we saved over $400,000," Tucker said. "That's when electricity was 11 cents per kilowatt-hour. Today our electric bill is around 19 cents a kilowatt-hour. So take that same amount of energy at that cost, and now that annual saving is more like $800,000 a year."
Do the math.
The next biggest chunk of energy usage goes to lighting. They've retrofitted with electronic fixtures that allow them to use fewer bulbs to get the same amount of lighting.
A computer controls the lights-it will turn off the power to any that remain on. Tucker said their building can lose up to $21,000 a year - just from tenants forgetting to shut off the lights when they go home at night.
That same computer can also turn off the air conditioning to offices that are closed, while still cooling the rest of the building.
They installed machines that measure the weather conditions outside and automatically adjust all the building's pumps and fans to assure a constant comfort level.
They've installed a water pump system that shuts itself off at night.
They even have sensors in the bathrooms that turn the lights on when they're in use and off when they're not.
These measures are effective, but not cheap. D'Andrea believes they're worth it.
"There is an investment that you have to sell, but most of the time you get payback in two or three years."
The key is to approach the owners or landlords with a proposal that lays out the costs and benefits. Keep it clear and simple, black and white. The bottom line has to match their goals.
Operations manager Bollozos-Fraticelli said tenants who know about the energy-saving efforts appreciate them. They are, after all, the ones who collectively pay the operating costs of the building. Once they know, they often try to help.
"They'll say, 'Hey, what about this? What about that? Did you see that light that was on?' And they try to give us ideas."
Think about all the buildings in Hawaii and you realize the great potential for savings there-in energy and money. It takes the will to change, but also a believer, a champion, or a team within your organization to research the options and then push the projects through.
Most Recent Comment(s):