Growing Up In A Homeless Shelter

By
.(JavaScript must be enabled to view this email address)
Wednesday - November 21, 2007
|
Share

Del.icio.us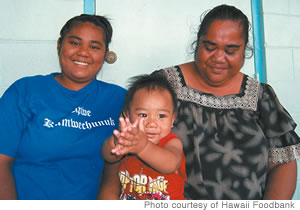 Brenda, Jared and Sintike Deitas: Your Foodbank donation can help
All the biggies are coming up fast - Thanksgiving, Christmas and New Year's Day. It's celebration season. We need this time to give thanks and take stock of life. And while we're counting our blessings, let's not forget that the things that make us happiest are the basics - someone to love, something to do and something to look forward to.
And also consider how easy it is to lose your entire world. In the case of the Deitas family, all it took was a nephew who wouldn't behave. The young man was living with them in a Makiki apartment when he fell in with a bad crowd, drinking and fighting all the time. He got the whole family evicted. Now they are homeless.
The teenage daughter of the family, Brenda, has her hands full. She has a baby son, a diabetic mother and a father who can't earn enough to get them into another place despite working full time at the airport. Brenda has made mistakes, but is working hard now to turn her life around. Her day consists of job-training classes and work, and then returning to the Waipahu shelter where her little family bunks down for the night. She has it rough, but her mother has it worse.
Sintike Deitas is only 42 years old, but looks and moves like a worn-out woman. She is too sick to work, but she must take care of her grandson Jared under circumstances that would make most people break down and cry. Here's her day: She and her family leave the shelter by 7:30 a.m. Brenda goes off to her classes. Sintike, her husband, Charles, and baby Jared head to a park, where they camp out for the morning under a tree. Charles, who works the night shift at the airport, sleeps.
At around midday it's time for Charles to go back to work. They have a truck, but he doesn't want to leave his wife and their grandson without shelter while he's gone. So he drives them to a parking lot across the street from the shelter, where he leaves them sitting inside the vehicle. He takes the bus to the airport. Sintike and Jared wait in the truck for hours in the afternoon sun until the shelter doors open at 5:30 p.m.
Can you imagine?
Brenda, in the meantime, has finished her classes and has gone to her part-time job at a local research firm. She will hurry back to the shelter after work because she doesn't want to miss the evening meal. It's a highlight of her day.
The night I was there the volunteers at the Lighthouse Outreach Center served a humble meal. Brenda accepted her plate filled with a big scoop of rice, hot dog and chili. Afterward we had a chance to talk.
"It's hard," she told me, losing the friendly smile she'd greeted me with earlier. " I can't believe this is real."
She glances over at Sintike and Jared. The baby is laughing and pulling his grand-mother's hair. Brenda doesn't do anything a normal teenage girl does. No dates, no parties, and she doesn't even think about hanging with her friends. She's always worried- worried her mom's diabetes, worried about the toll the homeless life is taking on her dad. But most of all, she's sad about her child.
"My baby has grown up in the shelter."
All she can really do is to keep working and hope for the best. She is 16 years old.
"I know things will get better," Brenda says. "As soon as we get out of here."
But this night, the family will again cram into the bare bones gymnasium to sleep. They are given inch-thick foam mats to soften the cold of the concrete floor. Beside them, in front of them and all around them are other families laying claim to their own little patches of space. As mothers organize their few possessions, the children play, or sit, or sleep. There are many children here tonight.
If you're like me, you probably get frustrated at the slow pace of progress when it comes to dealing with the homeless problem in our state. We can't control the sky-high rents, or make public policy or build the homes ourselves. Change takes effort, money and time.
But we can do simple things - like donating to the Hawaii Foodbank. Many of you have received a letter from the Foodbank in the mail recently asking for your help. I hope you take the time to do so. It would be the best holiday gift you can give to a girl trying to make a better life for herself, for her parents and for her child.
Most Recent Comment(s):