Honoring Legendary Ellen Masaki

By
.(JavaScript must be enabled to view this email address)
Wednesday - May 21, 2008
|
Share

Del.icio.us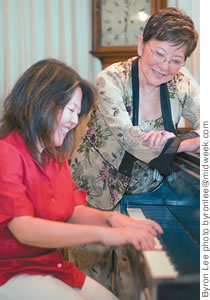 Student Lisa Nakamichi practices under the watchful eye of Ellen Masaki
Ellen Kimura, as she was known back then, was playing a pipe organ in church when all hell broke loose. It was Sunday, Dec. 7, 1941. The day the Japanese zeroed in on Pearl Harbor.
"They started bombing," she recalls, "and my mother went berserk."
I guess you could say Masaki has led an interesting life.
She was in seventh grade back then - a teenager from the lower middle-class district of Kalihi who was already acknowledged around town as a musical prodigy. Her parents were poor, but determined to give their children every opportunity for success. To that end, Mrs. Kimura borrowed (and later painstakingly returned) the money to buy a used Baldwin spinet and hired James Gallet, a member of the Honolulu Symphony Society and a teacher of music. It was a good investment.
Today I'm sitting with Ellen - now known as Masaki - in her spacious studio marveling at her recall. She remembers names, dates, places - details you or I would have forgotten long ago. She is 80 years old, but thinks, acts and looks 20 years younger.
"I dressed up for you," the tiny woman tells me when I compliment her. She is coiffed and elegant. Her voice is light as air and tinged with the accent of the old Kalihi neighborhood. I find myself staring at a tiny hibiscus painted on her immaculately pedicured big toe. Ellen Masaki is perfect. And then I look at her hands.
She has no-nonsense hands. Short fingernails, no froufrou manicure. Just plain and simple and strong. The hands of a piano teacher.
"I have to keep myself young because I get better results from my students. I have to get down to their level. Sometimes I even have to speak pidgin."
She is, after all, a Kalihi girl. Ellen may have been a teacher all her life. Since both parents had to work, Ellen took care of her sisters. She guided them, cooked for them, sewed all their clothes. She even sewed her brother's pants and shirts. "Those days are over," she laughs, when I ask if she's still competent with needle and thread.
The best times were always in some way connected to music. At Kalihi Kai Elementary - "I still remember the principal, Mr. Kaaha" - and later at Kalakaua Middle School she was recognized as an asset and asked to perform at school and state functions. And then came the war.
"During those years everything had to be blacked out. We had a curfew." But she continued playing piano, sometimes under unusual circumstances.
"My brother was two years older and he had tons of friends. He was the only boy so he had the largest room. We three girls had one tiny bedroom we had to cram into (laughs).
"So all his friends would come, about 30 of them on weekends. And I was their entertainment. I played for them until the wee hours of the morning."
One of the friends was a kid named George Ariyoshi, who lived about a block away. Was he cute? I ask. Ellen crinkles her nose.
Ariyoshi, as you know, became governor of Hawaii. But it was Ellen who became queen of Hawaii's music scene, first as a brilliant featured performer and then as one of the most respected and successful teachers in the nation.
Her accomplishments as a teacher are legendary. Her students have racked up awards in the most prestigious competitions in the world. They have gone on to distinguished careers. Most importantly, they have learned that music and life are the same - that the winners aren't necessarily the most talented, but the most committed. Her own life has taught her that. Commitment is what led her to her glorious performances, and it's what made her realize that she preferred teaching to all else.
"It just grows on you. I love children. I love seeing them make progress," she says.
"Everyone thinks I hand-pick my students, but I don't. I take them as they need me. I can't think of anything else I'd rather do."
Ellen says she will teach until she dies. I think she'll be at it for at least another couple of decades. She's just that kind of woman and we're lucky to have her.
Ellen Masaki's 50 years of contributions as a music teacher are being honored Saturday, May 24, during the Hawaii Youth Symphony's Aloha Concert luncheon. For tickets or information, log on to www.hiyouthsymphony.org, or call the HYS office at 941-9706.
Most Recent Comment(s):