How Green Is Your Motor Oil?

By
.(JavaScript must be enabled to view this email address)
Wednesday - July 21, 2010
|
Share

Del.icio.us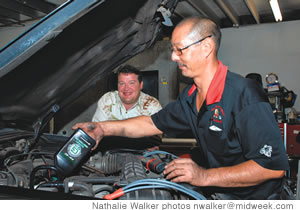 Scott Williams watches as Keith Kobayashi pours G-Oil into a car's engine
What do cars, motor oil and the color green have in common?
Normally, not much. There's nothing greasier, dirtier or more petroleum-dependent than cars - unless you happen to be talking about one of the oldest auto maintenance companies in Hawaii. Does the phrase "Thank You ... Very Much!" ring a bell?
Lex Brodie's Tire, Brake and Wheel Company is more than just a kamaaina fixture in the Islands. Its president, Scott Williams, is determined to make his company a friend of the environment. To that end, Lex Brodie's is introducing a new product to its customers, GOil, a fully synthetic motor oil that, its website promises, "not only helps to protect the environment, but gives your engine ultimate protection."
Williams sees the irony in what he's attempting. In fact, the 41-year-old wasn't always the type of man - or business leader - who gave much thought to the environment. Williams admits he used to be downright dismissive, unless it affected his business in some way. He laughs about it now.
"I have a manager, and he had been recycling for a while. I used to walk into the store and see the empty cans rinsed out and sitting on top of the counter and I'd get upset: 'What are these cans doing here where customers can see it? It's unsightly.'
"So I'd take them and throw them away."
Uh, yikes.
Today, Williams is passionate - even slightly fanatical - about recycling. "Now if I have a HI-5 recycling bottle I'll take it home with me. I won't throw it away. I've completely transformed from someone who wasn't very attentive, to now recycling and actively protecting the environment. I've changed."
Williams did not have a sudden epiphany. His involvement started small, with a request from his young son's school. They were asking for volunteers and Williams, the good dad, stepped up.
"They had a bunch of committees. The one I signed up for was the recycling committee ..."
And the rest is green history.
Williams soon started looking around his shop for recycling opportunities. The more he learned, the more his interest and his passion grew. Soon he and his staff were coming up with ways to integrate what they'd learned into their services. They came up with the GreenFleet Super checkup.
"It's a service that comes with a 38-point inspection, including alignment check, rotating the tires ... putting synthetic oil into vehicle ... It's designed to be a service that would save the consumers time and money, a whole bunch of services plopped into one really good deal."
The key to reducing emissions, though, is the oil. The company's lead mechanic and VP of operations researched it exhaustively, and came away impressed. G-Oil is fully synthetic, a byproduct of animal fat, and if you dump it in your yard, 95 percent would decompose within a week, the rest not long after.
Williams now counts himself as an environmentalist, but that doesn't mean he believes people should go to extremes.
"Yes it would be nice if everybody could get rid of their gas guzzlers and drive a Prius or a hybrid, but that's not very practical. Not everybody can just trash their car and go buy another car.
"Plus, we don't think that's environmentally sound. Because think of all the resources that go into making a car, and if you're just going to take it to the scrap yard you're just wasting all those resources that have been consumed. And then you've got all the construction and consumption to make the new vehicle ...
"So basically we thought about it and brainstormed and came up with, well, anybody's vehicle can be greener as long as they maintain it properly."
According to Williams, the GreenFleet Super Checkup is just one way to address the environment. Visit their website, lexbrodies.com, and click on the GreenFleet icon to find out how you can help the environment and earn money for community programs like Lanakila Meals on Wheels and the Hawaii Foodbank. It's all part of the company's commitment to Hawaii and the environment.
What Williams doesn't want is for people to think they are "green-washing" - jumping on the green bandwagon in order to look good or boost business.
"The way we look at it, whatever is good for the environment, whatever is good for the consumer, whatever is good for the community, is going to be good for business."
And for that we say, thank you ... very much.
Most Recent Comment(s):