Lessons From Rihanna And Brown

By
.(JavaScript must be enabled to view this email address)
Wednesday - February 25, 2009
|
Share

Del.icio.us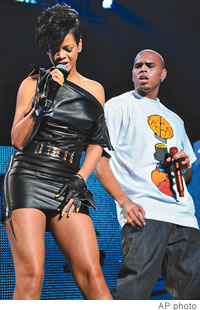 Rihanna and Chris Brown in December 2008
If you're a parent of a teenager, you may know the names Chris Brown and Rihanna. They are, or were, today's hot young couple - the equivalent of Debbie Reynolds and Eddie Fisher, Elvis and Priscilla, Tim McGraw and Faith Hill.
Brown, 19, and Rihanna, 20, are superstars among the young. Cute and talented without being intimidating, they ooze wholesome sex appeal. Both juggle successful recording careers while pitching everything from milk to gum to CoverGirl cosmetics.
So it was a surprise when neither showed up at the Grammys, where they were slated to perform. And a shock when word began trickling out about the reason why.
The facts: On Feb. 8, someone called 911 to report a disturbance in L.A.'s Hancock Park. Police found a shaken Rihanna who, according to the police report, had bruises and scratches on her face, a bloody nose, a split lip and bite marks on her body. Soon after, Brown was in custody and under investigation for the beating.
No one is disputing the basics of this story. Brown even came out with an "apology."
"Words cannot begin to express how sorry and saddened I am over what transpired," the singer said in a statement released by his spokesperson. "I am seeking the counseling of my pastor, my mother and other loved ones and I am committed, with God's help, to emerging a better person."
That's it. He is sorry and saddened. Not for beating his girlfriend, not for threatening to kill her, but for "what transpired." So this young man becomes the latest person to make use of the non-apology apology.
He's not the only one making a molehill out of a mountain. Here's a quote from his father, Clinton Brown: "This is unfortunate, this stumble, this situation. Hopefully, he will get past it. We all have our shortcomings. We all trip."
If ever there was a time for a teachable moment, one that your son or daughter can relate to, this would be it.
Now would be the time to explain to your son that it is never OK to hit, kick or bite - or threaten - even if your girlfriend makes you mad, or says she's leaving you, or does something you don't want her to do. He has to understand that there are consequences for crossing the line. It's something Brown is already discovering. Not only is he facing a possible criminal conviction and time behind bars, his milk ads have been pulled and his campaign for Doublemint gum suspended. His once white-hot career - including all those lucrative endorsements - may have flamed out for good.
Now would be the time to explain to your daughter that it's never OK for her boyfriend to lay a hand on her. It's not acceptable for him to tell her what to wear, or that she's fat and ugly or that she can't talk to her friends. Let her know that no matter what he says, it's not her fault. There will be people who will say she "brought it on herself." They will say she said or did something so terrible that the beating was justified, understandable. Don't believe them. Violence is never OK.
Now would be the time to help both sons and daughters see the difference between a healthy, supportive relationship and a painful, emotionally controlling one. Tell them about domestic violence, dating violence, and emotional abuse. If it hurts - in any way - it's not love.
And finally, it's a good time to point out to the kids that saying you're sorry without admitting guilt or taking responsibility is not really an apology at all. And just because other people make excuses for you doesn't absolve you of responsibility. Being abusive is not a "stumble" or "unfortunate." Batterers are not good guys who slipped or tripped. Abuse - physical or emotional - is wrong, ugly, intolerable.
So, please, talk to your kids about Chris Brown and Rihanna. Unless you speak up you could let the moment pass. Worse, your child could easily draw the wrong conclusion - one that could affect his or her relationships for years to come.
Most Recent Comment(s):