Life Rolls On After A Tragedy

By
.(JavaScript must be enabled to view this email address)
Wednesday - December 14, 2005
|
Share

Del.icio.us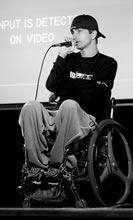 Jesse Billauer
As he had often done, Jesse was surfing with some buddies at Zuma Beach in the early morning before school. On one particular wave, Jesse was riding with his back to the wave, when the crest of the wave hit him from behind, sending him headfirst towards a shallow sandbar, just below the surface of the water. With not enough time to extend his arms out for protection, his head compressed on the ocean floor, immediately his body went limp, unable to move he found himself floating face down in the water, unable to turn himself over. He calmly held his breathe, waiting for nature, his longtime friend, to turn him over. Fortunately a wave provided the initial help he needed, and flipped him over.
Excerpt: liferollson.org
Jesse Billauer would never be the same again.
He was 16, and already had been named one of the top 100 up-and-coming surfers in the world by Surfer Magazine. Jesse was riding high. He was one month away from his 17th birthday - one month away from turning pro. But the wave that slammed him into the sandbar snapped his spinal cord and shattered his dream. So Jesse had to create a new one.
" I mean, I thought why me, why me?" he told me in a phone interview. "But I realized nothing was going to change, so I might as well figure out what I can do."
That was going to be tough. The injury left him a quadriplegic with no movement or sensation below mid-chest, and limited use of his hands and arms. He didn't waste too much time on self-pity.
"I'm used to fast transitions, 'cause I'm a surfer. I had to react quick and find a way that I wasn't going to drown."
Jesse dove into his new life with the same passion he'd devoted to surfing, and without looking back. His days were filled with physical therapy and he had to relearn how to do everyday things. Eating was a challenge. He came to grips with a new reality - he needed help now. He would never be as independent as he was before. A harsh new world for an athletic young man of 17. But he adapted. He fought. And he did not drown.
"I struggled. Some days were a lot harder than others. But I stuck it out.
"I spent a lot of time alone in my bed and thought about life ... the beautiful things. I realized there was a lot more out there than walking."
He has done more than keep his head above water. The now 26-year-old man has thrived, with the help of his family and a tight circle of friends. They inspired him, and so did the strength he found within himself.
Jesse is here this week for two reasons. First - he'll be on the North Shore for the Pipeline Masters. Surfing is still in his blood and a huge part of his life. And second - he'll be inspiring others by giving a series of talks. That's what he does now; he's a motivational speaker and a spokesman for Life Rolls On, a grassroots organization dedicated to raising funds and awareness for spinal cord injury research. Check out the website at Liferollson.org
Jesse Billauer will be at Rehab Hospital Wednesday, Dec. 14, at 6 p.m. If you want to hear his story, call REHAB Hospital at 531-3511, ext. 791.
And go even if you don't have an injury. Because his message is for everyone. He wants all of us to be grateful every single day for the things we can do-even the simplest of things-like put on our own clothes, feel our bodies, walk up the stairs.
"I want them to take away that life is precious. Appreciate your family friends, health."
Jesse's favorite place in the world is still the ocean. He goes there often to reflect- and yes, to surf. His friends put him on a board and they push him out to sea. And then he's on his own among the waves that he loves. The swell rises below him and there he is - heart pumping, exhilarated, his body and spirit soaring high above the roar of the surf. Life is a gift. And Jesse is at peace.
Most Recent Comment(s):