Look Good, Feel Better Therapy

By
.(JavaScript must be enabled to view this email address)
Wednesday - October 06, 2010
|
Share

Del.icio.us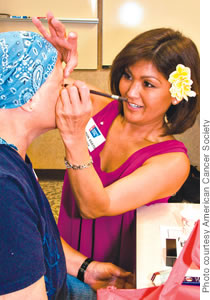 Sharon Asato helps a patient apply makeup
Davelynn Hubbard walked into the little classroom feeling like a cancer patient: sick, bald, listless.
She walked out two hours later feeling like a human being.
"I was going through chemo and radiation for breast cancer," the 49-year-old Maili woman says.
And she wasn't sure what to expect.
"I actually wore a wig when I first walked in. There were two tables. One was for women who had hair, and one for women who didn't have hair. I took my wig off."
That's how she met Sharon Asato, facilitator for American Cancer Society's "Look Good ... Feel Better" class.
Asato, a flight attendant for Hawaiian Airlines, was diagnosed with breast cancer in 2006. She survived the trauma and understands the emotional and physical toll of the disease. Now she volunteers her time to give women like Hubbard a respite from cancer, and to help them feel like attractive, normal people again.
She knows exactly what her students are going through.
"Actually, I had taken this class, and it was so great because I remember I was in that state where I was depressed, not feeling great - and you look awful."
The class helped her feel like a woman again, and she never forgot the emotional boost it gave her. After her treatment, she decided she wanted to give that same healing experience to other women.
The need is immense. Statistics on breast cancer are alarming. One out of eight women will be diagnosed with it in her lifetime, more than 80 percent of the women diagnosed have no family history of breast cancer. It is the second leading cause of death from cancer among women.
Asato knows all about the numbers. She knows what the women are going through when they walk into her classroom sick, discouraged and sad. But she also knows what a little fun and attention can do for them.
"You can totally see the transformation, " she says.
She has certainly made a difference in Hubbard's life.
"I wore makeup before," says Hubbard, "But after the class it made me feel a little bit better, because besides losing your hair, you have dark rings around your eyes that deepen, and underneath your cheeks your skin sheds because it's actually poison that you're putting in your body. It kills the good cells as well as the bad cells.
"When I got to the class they offered us a little package full of donated makeup, everything from Aveeno to Clinique. That made me feel special.
"We went step by step from lotion, to foundation, to mascara. When we were all done we looked normal, as normal as can be, with eyebrows and with - maybe not eyelashes, some of us didn't have eyelashes - but the eyeliner. It made our eyes come out a little bit better.
"So from nothing - and spots all over your face - to now everything's one color. Your eyebrows are there, your lips are there and it really made you feel good."
Asato says the class is about more than hiding the ravages of cancer. It's about sharing and, for a couple of magical hours, it's about forgetting.
"We're in a bubble," she says. "And you don't even have to think about cancer.
We just have so much fun."
Asato is one of several certified instructors for American Cancer Society's "Look Good ... Feel Better" class. It's free for women undergoing treatment for any type of cancer, and is offered at different hospitals across the state. Call the American Cancer Society at 595-7500 for information, locations and to sign up.
Asato says the classes can be an important part of the healing.
"In a way, they're getting help mentally by having conversations with the other women, telling different stories - it's not just you who has this horrible cancer. You can share. You may learn something talking to other women."
Hubbard agrees. The best part about the class wasn't the makeup, she says. It was the camaraderie and the support. "We bonded. We were all fighting this disease together."
Most Recent Comment(s):