Celebrating Our Human Differences

By
.(JavaScript must be enabled to view this email address)
Wednesday - April 08, 2009
|
Share

Del.icio.us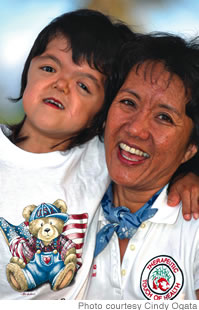 Maile Ogata and her mom Cindy
For a little girl not yet 10, Maile Ogata knows an awful lot about being different. She knows because of the way people stare at her wherever she goes. Sometimes they avert their eyes. Sometimes kids say mean things. And already, Maile is a veteran of eight major surgeries. She is no stranger to pain.
Maile has Apert syndrome, a genetic disorder in which the bones of the skull grow together earlier than usual. You know that "soft spot" on babies'heads? Maile didn't have that when she was born, and that premature fusion of the bones affected the shape of her head and face. The doctors had to open up her skull to let her brain grow.
Maile was born with two other major symptoms of Apert syndrome - fused fingers and toes. Surgeons have separated her fingers and they have even managed to build her a set of workable thumbs.
When you look at Maile today you notice right away that the middle of her face appears sunken. Her ears are set low and she's missing a lot of teeth, partially the result of the cleft palate she was born with that doctors have already fixed. But her eyes are big and beautiful, shy and wary - and happy. Her mom, Cindy, says she's always been a happy-go-lucky girl who likes playing ball, swimming and singing.
"I think (for a long time) she didn't know she was a little different," Cindy tells me as Maile inspects my iPod. Cindy has worked hard to keep her daughter's life as normal as possible. And for the most part, she says, people are remarkably compassionate, and "sometimes she even gets special treatment because of the way she looks." At Dave & Buster's the other day, she tells me, a man gave Maile a bucket of tickets, and later on his kids came back to give her hundreds more.
"There are those who are like angels in our world," Cindy says. "And then you have the flip side: people who aren't so kind with their words."
Like the time a kid made fun of her feet. Maile says she gets mad when that happens, but she doesn't do anything about it. Instead, she wants to hide. "It makes me feel like I want to go someplace," she says, practically in a whisper.
"I think she internalizes it," says her mom. "Sometimes she won't tell you, and then the whole week you wonder why she's in such a bad mood, until you find out that someone told her, 'Oh, you've got stupid toes.'"
She wouldn't let anyone touch her feet for a week.
It's the little things like that, Cindy says, that eat away at Maile's self-esteem. Cindy and her husband, Ernest, are trying to teach their daughter to stand her ground, to be tougher. It's hard, but Maile seems to understand, at least in theory, what it is she can say to people who are a little mean.
"God loves you too. Bye bye." Perfect.
This adorable little girl and her remarkable mom have all the important things working in their favor: the love of family and friends, and the embrace of a growing community of supporters.
Easter Seals, Cindy says, gave Maile the head start she needed as a toddler. "I just admire all the work they did and all the love they sent home with us."
Easter Seals provided physical therapy, speech therapy, occupational therapy and guidance. By the time Maile entered Aliamanu Elementary she was prepared for school, and even ahead of the curve.
Washington Middle School, where Cindy used to work as a counselor, threw its support behind the family. Five years ago the staff and students started "Maile's Dream: A Celebration of Differences." Every year they throw a big fundraiser with food, entertainment and a silent auction - all geared toward a mission: to help us understand, support and accept each other's differences.
"Maile's Dream" is this Saturday, April 11, from 9 a.m. until 2 p.m. on the Washington Middle School campus. All proceeds will go to Easter Seals Hawaii.
Maile, as I said in the beginning, knows a lot about being different. But she has a message for everybody in the world: "We're all the same on the inside, you know."
Maile had six surgeries by her third birthday, five of them at the University of California at San Francisco and Stanford. It would be so much better, Cindy says, if there was a good craniofacial team here in Hawaii, because Maile still has a long, long way to go.
Her next surgery is coming up, and Cindy says it will be hugely important: "The next major one will be the mid-face. That's where they open up the skull from ear to ear and pull the face forward. We won't be able to let her out of the house for 10 weeks."
I could see it in her eyes: love, fear and hope for her child, but also a fierce determination. "When you have a special child you do what you have to do to make it work."
When I ask, "What will be Maile's greatest challenge in life?" Cindy doesn't hesitate.
"To have faith and believe in herself, 'cause I think she's a little shy. But I know inside that there's some strengths."
And like any parent of any child, special or not, Cindy wants her daughter to have the confidence to carve her own place in the world.
"I think it's for her to develop and find her unique talents. I'm hoping that we don't push her in the direction we want, but that she finds what she wants to do.
"I have a dream," she says, paraphrasing Martin Luther King Jr., "that one day my child will be judged not by her physical differences ... but by the content of her character."
It's a mother's dream for a daughter, and one they share with us.
Most Recent Comment(s):