Men On A Mission To End Violence

By
.(JavaScript must be enabled to view this email address)
Wednesday - October 22, 2008
|
Share

Del.icio.us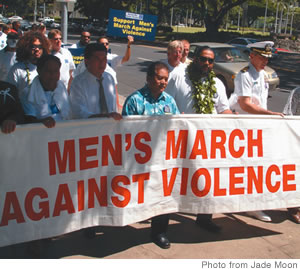 Not only Hawaii's women are up in arms against domestic violence
Did you know that October is Domestic Violence Awareness Month? If it slipped your notice it's understandable, what with politics and the economy and whether or not to build rail transit to worry about. Domestic violence simply hasn't been on the radar. But here are some reasons to pay attention:
* One out of four U.S. women has been physically assaulted or raped by an intimate partner. This according to the National Violence Against Women Survey funded by the National Institute of Justice and the Centers for Disease Control and Prevention.
* The same survey shows that nearly 75 percent of murder victims killed by an intimate partner are women.
* A recent study by the U.S. Justice Department reports that 73 percent of family violence victims are women, and 84 percent of spouse abuse victims are women.
So guess who's paying attention to those sobering statistics? Men. In ever-increasing numbers, men are speaking up publicly and passionately. They're adding their voices to an issue that too many in the past have relegated to the file marked "For Women Only." Not so, they're saying. It's our issue, too.
I recently moderated a televised conversation with four articulate, committed and compassionate men who explained why they want more of their gender to get involved.
The most well-known of the group, Joe Bloom, was one of the first men in Hawaii to jump into the public arena. Bloom is the director of therapeutic services at Catholic Charities Hawaii and teaches at the University of Hawaii, Graduate School of Social Work at Manoa. Bloom founded the annual Men's March Against Violence, hoping to encourage other men to speak out.
Michael DeMattos has been working with children and families for more than 20 years. He currently teaches the practice sequence for the Bachelor's in Social Work program at the University of Hawaii's Myron B. Thompson School of Social Work.
Raymund Liongson is a community organizer whose activism began when he was a student in the Philippines. He is currently an assistant professor and coordinator of Philippine and Asian Studies at Leeward Community College.
And J Mika, the youngest man in the group, was born in American Samoa but grew up primarily in Kalihi and Waipahu. He calls himself a proud product of Hawaii's public housing system and public school system. Mika is currently working with the Mayor's Office of Culture and the Arts for the City & County of Honolulu.
These men articulate a truth that is simple and stark. And that is that domestic violence is a cancer that affects all, and most men aren't paying enough attention.
Their motivations for bringing the matter to the public differ, but they have in common one important thing - they have seen firsthand the harm domestic violence does to families. In Liongson's case, it was his own. His mother escaped a violent husband and raised her children on her own.
Liongson is a success and a respected teacher today because of her courageous decision to leave. She was a single mom able to provide a safe home and a supportive environment. And he wants to pay tribute to her.
DeMattos and Bloom, both social workers and counselors, have seen the damage done when violence and fear pervade a home. And DeMattos says he had an epiphany when his own daughters were born. That's when he knew he had to be proactive. Silence, he and the others say, is a big part of the problem.
They are right. Until women and men can break that silence and work together on solutions, the cycle continues.
If you'd like to hear what these men have to say, you can tune in to Olelo Channel 52. The program is called, aptly enough, Giving Aloha.
Most Recent Comment(s):