New Hope For Cancer Patients

By
.(JavaScript must be enabled to view this email address)
Wednesday - July 11, 2007
|
Share

Del.icio.us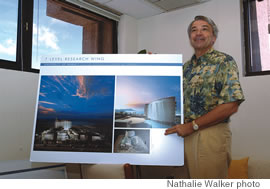 Carl-Wilhelm Vogel with a rendition of the planned
Cancer Research Center of Hawaii in Kakaako
No one wants to think about it, but if you've got cancer, you have no choice. It's in your body, you have to deal with it, and it's good to have options because once diagnosed, life revolves around battling it - and beating it. And even with the excellent physicians we have here in the Islands, the path toward survival can be strewn with obstacles and energy-sapping detours.
The good news is that soon we will have not one, but two more options to address the needs of people who have cancer. The Queen's Medical Center is opening a comprehensive cancer treatment center that will provide medical, physical and emotional services - everything from diagnosis to chemotherapy to acupuncture all in one area of the hospital. Queen's expects to open the new center by the end of this year.
The other option goes an important step further - it will offer up-to-date treatment as well, but with the added component of the latest in clinical research using promising, early phase drugs.
Under the guidance of director Carl-Wilhelm Vogel, the Cancer Research Center of Hawaii will soon break ground at the site of what will be a world-class research and treatment facility in Kakaako, right next to the John A. Burns School of Medicine.
Is there a need for it? Vogel took time out from his hectic day to show me why the answer to that question is a resounding yes.
Right now researchers, personnel and equipment are scattered in several buildings around town. Vogel walked me around the Lauhala Street laboratories, through corridors cramped and piled high with boxes and equipment, and labs that are sadly outdated. In fact, they're about as bad as some of the older public high school labs
I've seen over the years. There is limited ability to expand and modernize, and to house scientists and researchers who are doing important work that has the potential to affect many lives.
Despite these substandard conditions, the Cancer Research Center has managed to earn the distinction of being one of just 61 cancer centers designated by the National Cancer Institute, or NCI.
"These NCI-designated cancer centers are not only powerhouses of research and education and outreach and information and anything else that's beneficial, they are prime centers for cancer care."
That ability to provide cancer care is what has been missing from the current setup, and what Dr. Vogel is aiming to provide. His dream is to elevate the Cancer Research Center into the premier research and treatment facility in the Pacific.
He points out that right now the University of Hawaii, even with its medical school, is not primarily a care provider - "in contrast to every other medical school in the country."
Vogel wants it all.
"The cancer center will have a state-of-the-art, very modern clinic. We will offer what we call comprehensive cancer care. We will have all of the specialists working under the same roof. We'll have a concierge who
takes you by the hand, from office to office, and from social worker to nutritionist and whatever else there is."
But the biggest advantage will be the availability of clinical trials, which would give patients access to new drugs and new devices. Up to now patients who wanted to be part of such treatment had to go to a major academic medical facility on the Mainland.
"New drugs, new antibodies, new imaging devices," Vogel says will be available, "that don't exist anywhere else. And before they can be made accessible to the general public they need to be tested. And that's what would be available to patients at the new Cancer Research Center."
There's still a long way to go. The center has received initial funding of $10 million from the federal government, but the rest of the hefty $200-plus million
tab will be financed by a combination of the state's new tobacco tax and an arrangement with the developer, who will pay for the building and then lease it back to the state. The aim is to break ground late next year.
Although some have questioned the need for yet another comprehensive cancer center, especially with the Queen's facility opening this year, Vogel puts out an alarming statistic. He says right now there are 5,500 new cases of cancer diagnosed every year in Hawaii, and that number is expected to double in a few years. Think about it - 11,000 new cases a year. We will need the Queen's facility, and the Cancer Research Center, and every other resource available to us. Vogel says the important thing is that the medical community work together to make it happen.
Most Recent Comment(s):