NYC Sights, Sounds (And Smells)

By
.(JavaScript must be enabled to view this email address)
Wednesday - June 24, 2009
|
Share

Del.icio.us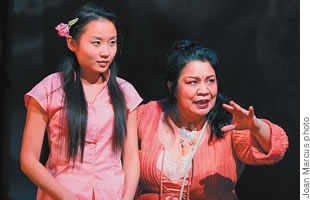 Loretta Ables Sayre with Li Jun Li in the Lincoln Center production of South Pacific
About that missing column last week, I had every intention of setting aside a little time during our New York City phase to bang one out, but you know how it is when you're on vacation: "I lost track of time!" "My feet hurt!" "There's so much to do!" "I'll get to it later ..." "Ugh, too tired now. Maybe tomorrow."
But enough excuses. Here I am stuck on a plane with a nine-hour flight stretching before us - the perfect time to shake off the vacation dust and reestablish a little discipline. Sigh.
But it was all good. Everybody in the world needs to visit New York City, and probably more than once. I wish I could describe it in a way that would do justice to this amazing metropolis. I wish I could plunk you smack in the midst of that cauldron of activity that is Times Square. The explosion of sensation can initially overwhelm the newbie, and it's especially jarring for those of us used to the more lackadaisical rhythms of island life. But the cacophony soon settles into the individual sights and sounds - and sometimes funky smells - of a city that crackles with energy. It's like the place is on steroids and everyone's had about two dozen cups of coffee - before breakfast.
Like a baby, the first thing you do when you venture out into this brand new world is learn how to walk. Hoofing it in Times Square is not like walking down Bishop Street or Kalakaua Avenue, even during the busiest of times. They've banned traffic from Times Square and turned it into a kind of mega pedestrian mall, but that doesn't mean it's a nice place for a stroll. It's packed with bodies barreling in all directions, fluid, noisy, glittering with neon and gargantuan flashing electronic billboards.
You do not behave like a normal pedestrian there. You do not meander. No abrupt stops to gawk confusedly at your map or to gaze into a window, unless, of course, you want to be bumped around like a slug in a pinball machine. The best strategy is to be alert, direct and flexible: eyes up, chin tucked, bob, duck and weave around throngs of people, avoid eye contact with hawkers and pamphlet pushers, all the while striding purposefully in the (hopefully) right direction. In that particular part of the city the rookie stands still at his or her own risk. We got the hang of it quickly and, yeah, it was fun. Exhilarating. And very good exercise.
We learned how to get around on the subway. It's cheap, efficient and easy to use - and it provides a great opportunity for people watching. Just don't stare.
We found New Yorkers friendly and helpful, for the most part. They are proud of their city, and those who work among the visiting hordes seemed to know exactly how to spell out directions clearly (if not patiently) for the many clueless folks who otherwise would wander around dazed and confused, getting in everybody's way, whimpering helplessly, "please, please, can you get me a taxi?"
Speaking of which, everybody who visits NYC must have a taxi story to tell. There truly is an art to hailing cabs in the Big Apple. The first time my husband tried he failed pretty miserably. He sort of crooked out his arm and wiggled his finger - I love him, but even I knew it wasn't going to work. Too tentative. The whole performance screamed, "I'm an amateur and I don't know what the heck I'm doing!"
But I didn't marry a dummy. After that first humiliating experience he watched and learned from the masters - the bellmen at our hotel. Soon he was hailing with the best of them. Standing in the street, ramrod straight, arm thrust aggressively skyward, fierce eye contact - he called, they came. Sweet.
But our ultimate cab experience came on our last day. There we stood, laden with too many suitcases because, of course, I had grossly overpacked, I always do. The cabbie drove up, popped open his trunk without getting out, and as the bellman prepared to load the bags, the driver leaned out his window and asked, "Where to?"
"Penn Station," I said, my hand already on the handle of the back door.
"Aah, I don't wanna go there," he snarled, and drove away ... with his trunk - and my mouth - wide open. The bellman stood there with the suitcase still in his arms and said something like, "Guess he made enough money today"
I won't bore you with every detail of our trip, but I have to say this: Loretta Ables Sayre killed in South Pacific. Our local girl stole the show as Bloody Mary and got some of the biggest applause from the Lincoln Center audience. We were so proud of our Hawaii super-star. And it was a great show.
Most Recent Comment(s):