Our Excellent Holiday Vacation

By
.(JavaScript must be enabled to view this email address)
Wednesday - January 11, 2012
|
Share

Del.icio.us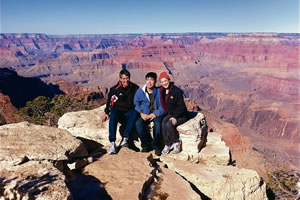 Ward, Zachary and Jade at the Grand Canyon. Photo from Jade Moon
I still have a holiday break hangover. But it's a different kind of hangover. This year I'm not staring at the crispy, dry remains of an overladen tree, or spending hours packing and storing decorations and ornaments in special places around the house. Instead I'm at the gym, whimpering as my sweetly sadistic trainer Michelle tries to undo the damage three weeks of nonstop eating indulgence can do to a body. Oh, it hurts.
As I grit my teeth and lunge my way across the room, I think, it's all Ward's fault. Yes. It was my husband who came up with the idea of going away for the holidays. I have a sneaking suspicion it was a distraction like throwing a shiny toy in front of a kitten because he didn't want to put up the Christmas lights. He sees me go into Christmas frenzy mode every season.
You know, the mode where you must bedeck every nook and cranny of the house with holly and wreaths and ornaments and glitter and stuff, and you must spend hours decorating a beautiful tree, and then you go mad procuring and wrapping gifts until you fall down exhausted and covered with sticky tape.
That mode.
You've heard of Bridezilla? Well, I think I am Christmaszilla.
My husband, apparently, decided we all needed a break in the routine so off we went to Las Vegas, New Orleans and the Grand Canyon.
What do you do in Vegas if you don't gamble? Simple. Eat, walk and sightsee. And eat again and again.
Here's the game plan: Wake up, get dressed, have a hearty breakfast. Then put on comfy shoes and walk. Those mega hotels and mallways along the Strip are great for long-distance walking. Along the way, take a break (or two) to grab a Krispy Kreme or a big, sticky candied apple. Walk some more. Have a coffee. Then walk to a nice restaurant and have lunch.
After lunch, drive to Hoover Dam or Valley of Fire State Park. If you go to Valley of Fire, make sure you drive past the visitor center to the area called White Domes. Take the hike, it's spectacular.
On the way back, stop at Sunny's Korean Hawaiian Barbecue or L&L or any of the other numerous Hawaii transplant plate lunch places and have a Spam musubi for a snack.
Go back to your hotel to shower and change into something nice. Go to a fancy restaurant and polish off a zillion courses. Maybe go to a show. Then have an after-show snack, and then roll your stuffed body into bed.
See? No time for gambling. Luckily, New Orleans is famous for being a foodie town, guilt is not allowed-you're supposed to eat. A lot. And often. We tried some of the restaurants recommended to us, Arnaud's and Tommy's, and we found some absolute gems on our own. Coots had great fried chicken, gumbo and red beans and rice. The best seafood we experienced in fact, the best meal overall was at a place called Red Fish Grill. It's a casual family place with food that is on par with any finedining restaurant anywhere. Next time we go to NOLA restaurant, we will start and end our stay there. It's that good.
Of course, we did more than eat in New Orleans. The French Quarter is charming and a great place to shop. Bourbon Street is noisy and fun. We took a swamp tour and saw alligators, even got to handle a baby "rescue" gator, which would be released into the wild as soon as it grew big enough to survive on its own. I recommend you explore outside the confines of tourist central. Go see the neighborhoods that are still recovering from Katrina, the stately mansions and the impressive cemeteries yes, cemeteries. Check them out.
We wrapped up our eating tour I mean, our vacation at the Grand Canyon. For once, the food took a back seat to something else. It's hard to put into words how truly awe-inspiring even spiritual an experience it is.
We had a room overlooking the canyon's South Rim. The hotel itself was mediocre, but who cares? In the face of all that natural splendor, the hotel wasn't important. If you haven't spent time at the Grand Canyon, I suggest you put it on your bucket list. It is, truly, heaven on Earth.
So as I grit my teeth and work off a gazillion calories, I find it in my heart to thank my husband. We had, after all, one of our best holidays ever.
Most Recent Comment(s):