Overcoming Pain With Forgiveness

By
.(JavaScript must be enabled to view this email address)
Wednesday - July 28, 2010
|
Share

Del.icio.us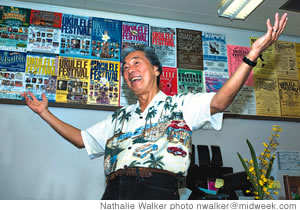 Ukulele master Roy Sakuma's personal story is helping Island kids
Roy Sakuma is a hero. You may not have known this because he's such a modest man - a beloved ukulele teacher and the creator of a successful ukulele festival. But about three years ago, Sakuma had an epiphany. He felt an overwhelming desire to help people in a different way, especially kids. So he started visiting schools. And what he's seen has convinced him that he is delivering a message of love and forgiveness that children crave and need.
"I'll be talking to a group and a kid will burst out and say, 'Help me, help me, I'm hurting.' And another one will say, 'I don't like myself, how come?'
"I talk to them about how our actions and our words are harmful to others, but more important, how our actions and our words that are hurtful are hurting ourselves."
He is speaking directly to those who are angry and lost. And when he talks, they listen, because he's been there.
Sakuma has only recently come out publicly with a secret he'd lived with for decades:
"When I was born my mother was already developing a mental illness. They call it paranoia schizophrenia. By the time I was a little boy my father told me, don't listen to your mother. And in those days they used the word crazy. So he said, your mom's crazy, do not listen to her.
"She constantly talked to herself. She was delusional, paranoid, always telling me, don't look at that person, they're looking at you and stuff like that.
"My brother, who was eight years older than me, had the same illness as my mother when he was about 16 or 17. It was difficult because I'd be sitting there in my home, and my mother always walked behind me talking to herself, and my brother would be across from me, laughing and talking to himself. So I would kind of drift off into dream-land to shut my mind off.
"I remember one day I told my brother to leave my mother alone, and he grabbed a kitchen knife. Fortunately I was able to escape out of the house, and he slammed the door. You could hear him ranting. The police came, and the ambulance came and took him away on a stretcher. They took him to the mental hospital.
"The problem is, when they have you on medication they release you, so he came home. So I'm still a young boy, but now I'm so afraid that when I close my eyes and fall asleep he's gonna kill me.
"The only way to solve that was not to sleep at night. I would roam the streets until like 2 o'clock in the morning, or I would go to the bowling center, cause they usually close about 2 o'clock. So when I'd come home, I'd know he was sleeping, and now I could go to bed."
His father, unable to cope, stayed away from the house. Instead of being angry at him, young Roy was happy that his father had escaped. He directed all of his rage at himself.
"I looked at myself as being ugly," he says. "I looked at myself as being a freak. I was with the wrong people and I was put on probation for a couple years. I was so angry and I was so hurt, but I didn't know how to deal with it.
"You live a façade life. You want to hide the scar and the way to hide it is to act cool."
Roy was kicked out of Roosevelt High. Looking back, he sees it as a blessing. He had to go to work, and for the first time in his life felt like he fit in. Working took him away from the hurt.
At about that time a savior swooped into his life in the form of ukulele master Ohta-San, a former military man who taught him discipline and music. The ukulele gave Sakuma a passion and a career. But what gave him his strongest motivation to change was love.
The young woman's name was Kathy, and Sakuma wanted to marry her. But before he did, he made sure to tell her everything he considered weak and freakish about himself. He told her about his family's mental illness, his fears, his insecurities and his bad past. He thought she would run screaming from him.
"Instead, she just listened. And when it was all said and done, you know what she told me? She said, 'I never saw it as your weaknesses. I see it as your strengths.' Amazing, isn't it?"
Roy and Kathy are still married today.
Which brings us back to forgiveness. Sakuma freed himself of his mental and emotional bonds only after casting off years of blame, shame and guilt.
"I had to forgive myself for thinking that I was not good enough. That I was ugly. That I was filled with all these things. And I had to forgive my mother for being mentally ill. I told my mom, I love you.
"I had to forgive my brother for trying to kill me. So I went to his grave, cause he committed suicide. I went to the grave and I told my brother, I forgive you.
"And anybody in my life that hurt me, I would let go and I would forgive that person. When you let go of that hurt, that hurt can no longer control you."
Sakuma is being honored as one of the "forgiveness heroes" at the eighth annual Hawaii International Forgiveness Day event Sunday, Aug. 1. It's at the University of Hawaii's Shidler School of Business. For more information, see hawaiiforgivenessproject.org.
Sakuma may not see himself as a hero, but he does understand the power of his message: "When you can begin to forgive, that is the beginning process of healing.
"Forgiveness and healing work hand in hand."
Most Recent Comment(s):