Patti's: Alive And Well At Pearlridge

By
.(JavaScript must be enabled to view this email address)
Wednesday - February 06, 2008
|
Share

Del.icio.us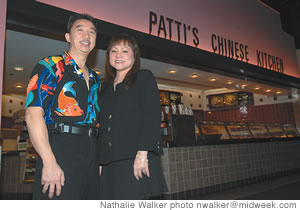 Patti's Chinese Kitchen manager Phillip Lau and owner Patti Louis at her namesake restaurant in Pearlridge
Patti's Chinese Kitchen is gone. The place at Ala Moana is dark. A brief moment of silence from those of us who grew up chowing down on her pot roast pork, chow fun noodles and lemon chicken, as we mourn the loss of yet another of our local touch-stones.
But Patti herself? Well, the face behind that locally iconic name is at peace with the decision, and has already moved on with her life and her business.
When I met her I have to admit I was surprised. The woman in front of me was nothing like the Patti of my imagination. I had expected a little, gray-haired Chinese lady, maybe because Patti's Chinese Kitchen had been around, well, forever. So when she walked out of her cubicle at the Ala Moana site I looked behind her to see if her mom, the real Patti, was following behind. "You're so young!" I blurted rather crassly.
"I get that comment from a lot of people," she said, smiling.
Patti Louie is attractively middle-aged with a friendly, open face. She's been a little shocked by all the attention - in the past couple of weeks she's been in the daily papers and on TV and now, in MidWeek. The glare of the limelight is something she never sought.
"I like to be more private. I don't usually tell people who I am."
Well, now everybody knows. And that's OK with her, because she wants it known that the business is alive and well in Pearl City.
"It's not like we're totally leaving the Islands. A lot of our customers live in Pearl City so they're kind of happy about it."
That's where she is right now - organizing the added staff and equipment she brought over from the Ala Moana site. Her longtime baker has come over with her to Patti's at Pearlridge. Part of the new plan is to put out all the specialty items: Chinese cookies, homemade sesame candy, taro cake - "most people consider ours to be the best" - chop suey cake, fried taro and butter mochi. These are the treats baby boomer islanders grew up with, and Patti is banking on that. She says the families here at Pearlridge are local people who like and understand her food.
"We'll offer more daily specials," she says. And they expect to do more catering.
Patti and her husband, James, who's been in the business for 35 years, have seen a lot of changes over the decades and they've adjusted.
"People's tastes have changed. They want more vegetables, less MSG."
But some things remain the same, she said. And that's the need for food with a strong local flavor.
"This type of food, our particular type of local Chinese food, it's different from Hong Kong or Szechwan. Local is different. Ours is very unique in the state."
They've tried to stay true to her father's vision. Calvin Chun, now 93 years old, started the Ala Moana restaurant when Patti was just getting out of college. He and Thelma, 89, have four daughters -Charlene, Patti, Lynn (remember Lynn's Delicatessen?) and Cathy -and they named businesses after each of the girls. Only Patti's is still operating, and she is mindful of that.
"I want to make it what he wants," she says. "I feel a responsibility to him."
It was her father who taught them the right way to conduct a life and a business. He insisted on treating customers like family. Give them quality at an affordable price, respect and honesty, he told his children.
"Every time I have to make a decision, I think, what would my father do?"
Leaving her family of customers at Ala Moana was hard, but "We also have a family at Pearlridge. We'll create an even bigger family over here.
"Local people - we're all connected somehow."
And she believes it's that connection that will keep them strong, thriving and feeding a new generation of families in their Pearlridge home.
Most Recent Comment(s):