Pepper Spray Video Goes Viral

By
.(JavaScript must be enabled to view this email address)
Wednesday - November 30, 2011
|
Share

Del.icio.us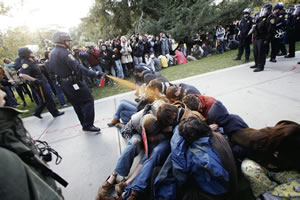 University of California at Davis Police Lt. John Pike uses pepper spray Nov. 18 to move Occupy UC-Davis protesters while blocking their exit from the school's quad. AP photo
Thanks to what appeared to be an act of breathtakingly casual brutality, I learned what an "Internet meme" is.
Here's how Wikipedia describes it: An Internet meme is an idea that is propagated through the World Wide Web. The idea may take the form of a hyperlink, video, picture, website, hashtag, or just a word or phrase, such as intentionally misspelling the word "more" as "moar" or "the" as "teh." The meme may spread from person to person via social networks, blogs, direct email, news sources or other Web-based services.
My lesson in memes started when someone tweeted a video that made my mouth drop open like a gasping fish. It was the now infamous UC-Davis protest. There they were, students kids, really sitting on the ground, arms linked. Yes, they were defiant, but they were also unarmed and earnestly, unmistakably peaceful.
Up walks university police Lt. John Pike, shaking a can of pepper spray. He then saunters (it looked to my shocked eyes like sauntering) up and down the line once, twice, three times spraying the kids at point-blank range. He is in full riot gear. They are in hoodies and sneakers. It is a jarring, disturbing sight.
The video, of course, went viral. Virtual reaction was swift, cutting, often hilarious and decidedly outraged. Officer Pike became known as "Casually Pepper Spraying Cop," and was photoshopped into countless scenarios: nonchalantly spraying the Founding Fathers, a leaping Super Mario, a cute baby seal, lovable old Santa Claus, the Beatles as they cross Abbey Road, etc., etc., etc. He even sprays another Internet meme, the famous Keyboard Cat.
Computer ninjas soon ferreted out the brand of pepper spray used by Pike. A visit to the Amazon site shows a flood of new "reviews" of the product like this one: "Whenever I need to breezily inflict discipline on unruly citizens, I know I can trust Defense Technology 56895 MK-9 Stream, 1.3% Red Band/1.3% Blue Band Pepper Spray to get the job done! ... It really is the Cadillac of citizen repression technology. Buy a whole case!"
All humor aside, this is serious. Pike, another officer and the campus police chief are on paid administrative leave. UC-Davis chancellor Linda Katehi is defending her job even as she sets in place an investigation.
And while no one wants to secondguess people who have sworn to protect and serve, important questions must be addressed. Law enforcement policies are under scrutiny as people ask: Where's the balance between our right of free speech and the need or desire for law and order? When is use of force, including use of pepper spray, justified? Are the Internet and the ubiquitous presence of phone cameras and video a hindrance or a help to law enforcement in the age of YouTube?
These questions have been asked before, but they need to be asked again and again as long as incidents like this keep occurring. I happen to believe in sunshine, and the more light the better. We all get to see what at one time might have been hidden or squelched. We can think about it, react to it, talk about it. There is no hiding. A coverup is not even remotely possible.
The investigation will tell us, we hope, whether the action was justified or not. Meanwhile, the meme lives on.
Most Recent Comment(s):