Proving The Power Of Forgiveness

By
.(JavaScript must be enabled to view this email address)
Wednesday - July 29, 2009
|
Share

Del.icio.us
Imagine, if you can, that someone - a stranger - comes into your life one random day and does the unthinkable - something so brutal it shreds your heart into pieces and literally rips your family apart. Something that alters your life forever.
Imagine that. And now imagine yourself forgiving him.
Bryan Yamashita has lived the nightmare. On Feb. 27, his wife, 43-year-old Asa, was stabbed to death in what appeared to be a random attack by a deranged man. Tittleman Fauatea, who has a long history of mental illness, has been charged with second-degree murder.
The remarkable thing about Yamashita is not that he is surviving the loss of the woman he called his "soul mate," it's that he has forgiven the man accused of killing her. He has forgiven Fauatea wholeheartedly and without reservation, and with no expectations other than this - that he and his daughters would be able to cleanse any hatred burning in their hearts, and that this would lead them to true healing.
"I just got that sense," Yamashita says, "just a practical thing, a spiritual thing, that anger doesn't help. It's not going to bring her back."
He recognized almost immediately that forgiveness was tied to his faith in God.
"It's what my faith expects of me and what I'm supposed to do."
But another reason was even more compelling: "I realized later I need to do this for myself. And I need to do this for my girls."
His daughters Katie and Tori, he says, "blew up" the day they learned their mother had been killed. They screamed and cried in the back seat of the car. And then, he says, they were done with screaming. But they are not ready to forgive.
"They are angry. I try to talk to them about it. They told me they cannot forgive him. That's OK, I tell them. Right now you cannot. That's your honest feelings."
And Yamashita says it is OK - for now. He wants them to talk about it. To feel what they feel. It's important for them to let it all out. But it's also important that he set the right example.
"The reason I need to forgive him is ... I'm their model. They copy me. If they don't forgive this man, it's going to eat them up. I've lived my life. But look at them. They're just starting out."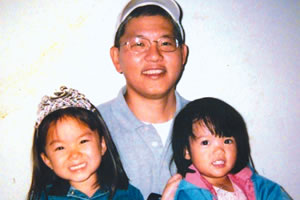 Bryan Yamashita with daughters Katie (left) and Tori
Starting out - and starting over.
"It was rough. I realized after a few days that I had joined the ranks of single parents. 'How do they do it?', I used to wonder. Well, now here I am. It saddens me sometimes. I had to learn how to do laundry, bathe the girls, wash their hair ..."
But now, he says, he looks forward to doing all those things. It gives them a chance to talk, and it's something they look forward to every night.
"I feel swamped most of the time. Two percent of the time I am sad ... I look at the girls and see that they miss their mom."
But he is steadfast in his belief that he has been blessed:
"I had my wife for 16 years and we had a lot of memories. It was a great marriage.
"I get frustrated at times but I don't ever get angry at the man. I get angry at the situation."
Yamashita, along with Dr. Mitsuo Aoki and Gwen Ka'ilihiwa, are being honored at the seventh annual Hawaii International Forgiveness Day event this Saturday. It's a free family festival, and this year's theme is "The Practice of Forgiveness."
In other words, how exactly do you do it?
Brian Epstein, spokesman for the Hawaii Forgiveness Project: "In previous years, we have sought to understand the nature of forgiveness and its importance in daily life, and tried to emulate people who have transformed their lives through forgiveness. This year we're offering three possible ways for anyone to actually begin forgiveness in your life, right now: through heart, character and spirit."
Bryan Yamashita is grateful that he will be honored, but not because he likes the attention. He's just happy his girls will be watching.
"I want them there ... I want them to see me in a public forum to show them what I want them to do eventually."
Bryan Yamashita says he is just a man, not a hero.
I disagree.
He is the best kind of man. And the best kind of hero.
Most Recent Comment(s):