Refusing To Accept A Lousy Life

By
.(JavaScript must be enabled to view this email address)
Wednesday - September 23, 2009
|
Share

Del.icio.us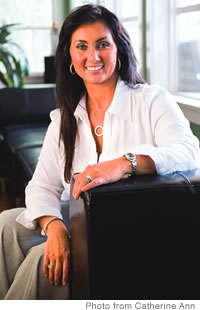 Catherine Ann: from homeless single mom to business tycoon
Catherine Ann is basking in the rarefied atmosphere one finds when sitting at the top of the world.
She is vibrantly attractive, married to the love of her life and heads a company that is the third largest of its kind in Canada.
Ann (which is her last name) epitomizes success. And one figures that's the reason she was invited to speak at Hawaii's International Women's Leadership Conference, right?
Well, yes.
But ... no.
While it's true that Catherine Ann is all of the above - beautiful, lucky in love and successful - what makes this 52-year-old woman so compelling is that she had to claw her way out of hell to get where she is today.
And sometimes she can't quite believe she has actually made it.
"I was looking at the list of women as I was rehearsing my speech," she says, "And… OK… an Israeli opposition leader, an inspector general, a famous author…"
And she feels a little intimidated.
"I thought, Catherine Ann, one of these things is not like the others. Deep down inside I was thinking, holy Hannah."
So what is her appeal as a role model?
Ann thinks it's simple.
"It must be my connection to real people. I am more or less someone that people are going to be able to relate to."
Her life did not have a fairytale beginning. And that's putting it rather mildly.
She was born in Toronto, an only child of alcoholic parents. "I was an inconvenience to them," she says.
They abused and neglected her. She was sexually molested from age 5 on.
"I used to endure a lot of fighting and arguing at home. I used to have to go to school the next day kind of like a zombie."
She found no solace at school, where she was taunted and bullied because she was poor and, she says, ugly. Even her teachers showed her no compassion, calling her a creature and a liar. They told her she'd never get anywhere in life.
"And then I'd go home. And there was no food. It was cold. There were rats and cockroaches…"
At 15 she was pregnant. She had long since dropped out of school.
"When I had my son, I went to my uncle ... he was well-to-do and I thought he could give me a job. He told me I had to sleep with his friends and business associates in order to make money."
Basically, he told her to become a prostitute.
She did not stick around. At one point she was homeless and eating out of garbage cans. She was at rock bottom and without the will or the means to pull herself up.
And then ... something close to a miracle happened. She met someone who believed in her.
"It was like an old-fashioned love story," she says.
And it changed her life. His name was Marc Joncas. He worked as a cook in a restaurant. They fell for each other and she admits that at first she was not the best influence on the younger man. She told him, "Quit your job. Let's make a million dollars together."
Problem was, they had no idea how. They were together, but they were still homeless. She didn't yet know how to turn dreams into reality so she kept throwing out suggestions, some of which were good, and some pretty awful.
"Maybe we should rob a bank," she'd say one week. Then the next, "Maybe we should start a company."
Joncas, a decent man, gently discouraged the horrible ideas and encouraged the good ones. He made it clear that he believed in the better side of her. Soon she started to believe it, too.
On the day that she went to pick up her last unemployment check, the clerk handed her a slip of paper. It described a government program called SEEDS, which is an acronym for the Self-Employment and Entrepreneurial Development Society. In a nutshell, this Canadian government program helps people get off welfare by inviting those with business ideas to come forward.
"You present your idea to a board and if they liked it they would help you start it," Ann says. The program would provide guidance and start-up money, and the rest would be up to the entrepreneur.
Ann and Joncas came up with a business plan to form a company that sends "mystery shoppers" to retail stores to gauge customer service. It was a modest proposal but it had potential. To their amazement, the board approved it. They were stunned. Shocked. Couldn't believe it. They finally had a lifeline. Maybe even a future.
And for the first time in a long time, they had the most important thing of all - hope.
With the money provided by SEEDS, the couple's business took root and eventually flourished.
Today their company, Consumer Connection Inc., is the third largest customer service evaluation and training company in Canada. It brought in $1.8 million last year and is still growing.
Ann thinks her story touches people in a powerful way.
"It helps them find something within themselves to be able to make changes and meet their goals," she says.
"People have said, 'Your story motivated me, inspired me.'A few people even said I saved their lives. It's a very difficult thing to do, when you put your soul on the line like that. But if that's the kind of effect my story has, I really can't question it anymore."
So Catherine Ann, once a homeless, starving single mother, is now Catherine Ann, happily married woman and captain of industry. Her son is 36 years old, and she and Joncas have been together 13 years.
Life is good when one is perched on top of the world. But she is well aware of where she came from and what it took to climb to the top. She wants to help others reach their goals. It keeps her humble.
"My greatest joy," she says, "is giving back. Helping people is what it's all about."
The sixth annual International Women's Leadership Conference happens Tuesday, 8:30 a.m. to 6:30 p.m., at the Sheraton Waikiki. For more information, go to http://www.iwlchi.org.
Most Recent Comment(s):