Stamping Out Hunger In Hawaii

By
.(JavaScript must be enabled to view this email address)
Wednesday - May 07, 2008
|
Share

Del.icio.us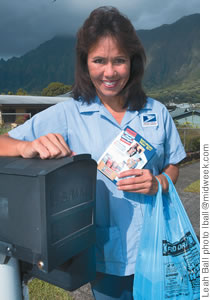 Letter carrier Adele Yoshioka is the coordinator of Saturday's Stamp Out Hunger Food Drive
Appreciate your letter carrier. We used to call them mailmen, but nowadays men and women take up the heavy responsibility of delivering our envelopes, parcels and publications, and they all do a fine job.
One of the things I really appreciate about our neighborhood letter carriers is the personal touch they bring to their job. They are friendly and conscientious. And this coming weekend you'll notice that they are generous, too.
This Saturday, our local letter carriers are joining their colleagues all across the United States to tackle a national problem - hunger. The National Association of Letter Carriers (NALC) is focusing its resources and energies on a massive community service project. Its "Stamp Out Hunger" Food Drive is a major blitz - the largest oneday food collection drive in the nation. It has the potential to bring in tens of millions of pounds of food. In fact, last year the letter carriers and thousands of other volunteers delivered 70.7 million pounds of non-perishable food items to food banks and food pantries throughout the nation.
Participating is almost as simple as licking a stamp. This week you will find in your mailboxes and P.O. boxes a letter explaining the project, and a small plastic bag. Take that bag, go to your cupboards and fill it with food. Then, on Saturday, put that little bag out near your mailbox or take it to your post office. Your mailman or mailwoman will pick it up and make sure it goes to the Hawaii Foodbank.
Mike Kajiwara of the Hawaii Foodbank says this nationwide food drive is a huge help.
"It's one of our two major efforts of the year," he says. Last year our local carriers brought in a little more than 310,000 pounds of food. They're hoping to do better this year and think those little plastic bags will help."
The NALC Food Drive is in its 16th year, but in its website says this year may be more difficult than most.
"The challenge this year is especially daunting. All signs point to a deepening recession, and with gasoline prices flirting with $4 a gallon, more and more families - including those of carriers - are looking everywhere for ways to save money."
The woman coordinating Hawaii's effort is a postal carrier herself - Adele Yoshioka. She's working hard to ensure you get all the information you need to make this drive a success, and she'll be one of the many carriers out there pounding the pavements for Hawaii's needy families.
Our letter carriers are hoping to do a lot of heavy lifting on Saturday. It's a burden they are more than happy to bear - if it means stamping out hunger in Hawaii.
Most Recent Comment(s):