Students Speak On Furlough Days

By
.(JavaScript must be enabled to view this email address)
Wednesday - December 16, 2009
|
Share

Del.icio.us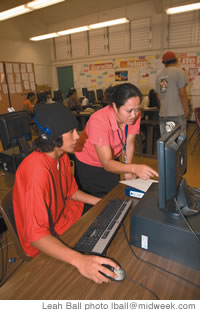 Fai Lowe with Waianae High freshman computer student Alex Richardson
Aloha, MidWeek readers: I asked for feedback on Furlough Fridays from the most important stakeholders in all of this, the students. Mrs. Fai Lowe, who teaches freshman computer education at Waianae High School, answered the call and asked her students to write me a letter. These are some of their responses:
Dear Mrs. Jade Moon, I am getting really bad grades in my classes because my teachers are packing us with so much homework because they are trying real hard to complete everything. We are having a real hard time because while the teachers are rushing to get whatever they have to do done, we don't understand anything and we just don't get it.
This Furlough Friday stuff has got to go. We can't learn what we need or learn important stuff for 17 days out of our year. I would also point out that we just sent 83 million dollars to Afghanistan to support troops when the USA and Hawaii need that money to help kids, teachers, and parents to survive this economy.
I do understand that Furlough Fridays are affecting our learning and that something needs to be done about it but the truth is that I like furlough and so does everyone I know.
I actually enjoy Furlough Fridays, It gives us students the brake we need from school. Two day weekends aren't enough sometimes we need a little more time off from school, you know?
If I'm going to fail this semester because I didn't learn much or I didn't understand the work because it was rushed through so we could learn all our work before school days are over then I would very much just blame you guys because you guys made Furlough Friday. It's just as if you erased a lot of memory in our brain.
The most important thing that Furlough Fridays is taking away from me is band practices.
Just cause you guys don't have enough money to pay the teachers why can't we fundraise for something. And also I want to become successful and learn a lot but you change that because we don't have enough school time to do that!
The problem is more work is made to keep up with the work that needs to be learned within that quarter of school, and we some times have projects that have to be done, and there are students that can only accomplish the work during school, so they do not have much time to do what they are needed to do. So I hope that there will be a compromise to fix the problem and create a better system.
As we get older and go to College or Get jobs to have a successful career, we wouldn't know what to do because we wasn't well prepared and didn't learn a lot of stuffs that we was suppose to learn. Furlough Fridays doesn't only affect our Education but also a lot of people's family because our parents need to work and support us but now they struggle because they are getting laid off or because of the Furlough days.
Just because you guys don't have enough money for our next generation of smart and intelligent kids, THEN DONT SPEND YOUR TIME WASTING OUR MONEY ON RAIL!! And stop raising our taxes!! Why am I bringing up RAIL? Because you guys are wasting time making RAIL, and it doesn't even go around the whole island only in town!! I can understand you wasting time to build it if it went around the whole island, but it doesn't so STOP!! And that's all I wanted to let you know.
Why did you cut off the teachers pay? Why couldn't you reduce your pay? Instead of paying so much for electricity why don't we open the windows and only use the lights when it is necessary. Or the air condition, we could open the doors, especially during the winter when it's cold outside anyway. There are so many different ways to save money that don't involve the loss of our education, please help.
By making no school on most Fridays we are all getting lazier. We expect to have 3 day weekends all the time and if we do have school Friday, we complain. The students that are in school now are becoming lazy, and when we get older and go to work, we aren't going to want to work. We will be so used to the easy weeks that when it comes time to having to work hard all the time, wewon't.
Furlough Fridays is good because we can sleep more and hangout with our friends.
Since we are currently taking Algebra Accelerated, Furlough Fridays affect us greatly because now that one more day is taking out of our learning time, we have double the work and we do a lot of projects at one time. Furlough Fridays also affects other students, student's parents, and teachers. Working parents have to worry about there child now that there child is at home doing who knows what.
Furlough days are basically saying, "We don't need school, we can just stay home and sleep." Those days are important to every single student and I think that if they are gonna cut days then they should at least make the days like half an hour longer so that way we have a little more time in school.
I know our economy is messed up so you guys are using Furlough Fridays to budget but I believe you guys should find another solution to that problem because we need every single minute of our education time to prepare us for the future.
Most Recent Comment(s):