Taking Action To End Hunger

By
.(JavaScript must be enabled to view this email address)
Wednesday - September 02, 2009
|
Share

Del.icio.us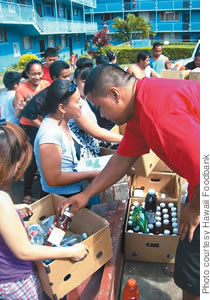 Joe Hunkin Jr. distributes food
A beefy young man in a bright-red shirt picks up an oversized box of Kellogg's Corn Flakes and hands it to a tiny girl, bending from the flatbed to place the box into her outstretched arms. She murmurs "thank you" and scampers off to add her booty to the small pile of food her mom has already collected. It is "free food" day at the project where they live, and they are making the most of it.
The people who swarm the truck don't expect a lot. The volunteers, including Joe, the young man in the red shirt, tell them what they are allowed to get: four cans, a couple of boxes of cereal, a case of water, some big bottles of juice, etc. There is no mob behavior; the people comply civilly. They know the rationing is necessary.
The volunteers are from the Lighthouse Outreach Center Assembly of God, and its leader is Joe's dad, Pastor Joe Hunkin. (He's the pastor's hanai son, who's really his uncle.) They do these site distributions once a week, covering a good portion of Waipahu's more depressed neighborhoods.
Today I follow behind as the truck makes four stops and doles out 3,000 pounds of food and supplies, all of which comes from the Hawaii Foodbank.
The little cereal girl's mom, who doesn't want me to use her name or take her picture, says they are grateful for whatever they can get. She isn't greedy and she isn't picky, except in one important way. I watch as she carefully combs through the canned goods - rejecting a can of corn, but stashing a can of green beans in her pile. She welcomes the corn flakes but ignores the cookies until one of the men on the truck actually presses a couple of boxes into her hands.
"I try to get the most nutritious," she tells me, and while cookies are nice, she doesn't see them as a priority. She certainly doesn't buy them - when the money isn't there, sweets are expendable. But tonight will be special. Tonight, the kids will have a fudgy cookie treat.
Each of the volunteers tells me the same thing: They love doing this. They like helping people. I can tell by watching how they get a big kick out of giving boxes of cookies and candy to the little kids. And they treat the elderly with special tenderness and respect, even carrying boxes of canned goods up the stairs to second-floor apartments for some of them. I am impressed and touched by their kindness, and by the gratitude of their Waipahu "family."
September is Hunger Action Month. And while not everyone can take direct action like Joe and the other volunteers, you should know that you don't have to do much to participate - a little help goes a long way.
Perhaps you could put a jar out in your office and ask everyone to contribute their coffee money, lunch money or spare change every day for a month. At the end of September you'd have a tidy sum to donate to the Hawaii Foodbank. You could host a food drive in your school, church or work-place.
For more hunger action ideas or to make a donation online, go to hawaiifoodbank.org.
By doing these simple things you can help folks like Joe and so many others who are doing similar good works every day. They put themselves out there, performing the gritty work in our communities and keeping hope alive for families who otherwise would go without. The least we can do is let them know we have their backs. All it takes is a little action.
Most Recent Comment(s):