Tapping Into Reusable Bottles

By
.(JavaScript must be enabled to view this email address)
Wednesday - March 25, 2009
|
Share

Del.icio.us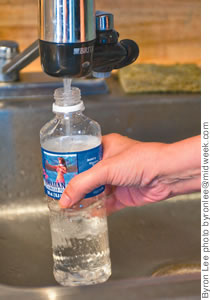 Using a water filter instead of buying bottled water is not only green, but it saves you money
Here's a typical scenario for a lot of us: Get dressed, fish car keys out of bottomless handbag, grab bottle of water out of the fridge before heading out the door.
Sound familiar? We ignore the tap and reach for the single-use, throwaway bottle. And I have to admit I had tiny pangs of guilt about it for the longest time. All that non-biodegradable plastic!
All that money down the drain! In these tough times, can we justify that?
So this year I decided I would feel guilty no more. I went out and bought a couple of those reusable bottles (Whole Foods is where I got mine, but they're available everywhere). I fill them up, stick 'em in the fridge -and there you have it. Ice-cold water ready to go. Easy.
It sounds like a small, even silly thing. But in our never-ending quest for convenience, we often do silly things. It's easy to bring a reusable bag to the grocery store, but most people scoff at that and prefer the plastic.
And it's easy to recycle, but a lot of folks still can't be bothered. One of the arguments for using bottled water is that the plastic is recyclable. That's true in theory, but the reality is that 80 percent to 90 percent of those containers are not reused. They end up instead in landfills, on streets, in otherwise pristine natural settings and in the ocean.
About 1.5 million barrels of oil are used in production of those plastic containers in the U.S alone. That's enough to power 100,000 cars for an entire year. And that's not counting the oil used to transport the bottles to your local market.
Is bottled water safer? Nope. Not in the U.S., where tap water is highly regulated. The Environmental Protection Agency says this on its website: "EPA sets standards for tap water provided by public water systems; the Food and Drug Administration sets bottled water standards based on EPA's tap water standards." And if you still don't trust your municipality's water, you can always buy a filter.
Also, here in Hawaii, how on earth did we convince ourselves that bottled water tastes better than the lava-filtered liquid gold that comes out of our tap? We have ono, naturally filtered water here. We're lucky that way. What a shame not to take advantage of this natural resource.
Worldwide, people buffeted by the economic downturn are taking stock of their habits, separating the luxuries from the basics, the "need to haves" from the "like to haves." Let's take a look at the cost of what we're drinking. Say one of these single-use bottles of H2O costs $1, and you drink one or two a day. At the end of the year, you'd have spent anywhere from $365 to $730. Hmmm. Now tell me, what else could you be doing with that considerable chunk of change?
I'm not giving up bottled water altogether. I've visited places where the tap water is questionable, or just tastes awful (sorry, Vegas). There are times when it makes sense to go for the predictability and safety of bottled water. But I no longer keep a case of it at home. And you know what? We don't miss it at all. I have a feeling you won't either.
Most Recent Comment(s):