The Color Of Self-acceptance

By
.(JavaScript must be enabled to view this email address)
Wednesday - February 04, 2009
|
Share

Del.icio.us
The only dolls I remember having as a little girl were Barbies and Trolls. Oh, and a baby doll, too. The Trolls, with their wild hair and oversized mouths, were in the so-ugly-they're-cute category. But, for the most part, the dolls I played with were beautiful, glamorous - and white. They had big, round, china-blue eyes, perfect (read: Caucasian) noses and porcelain skin. And that, together with the images I saw on TV and in movies, shaped my early perceptions of beauty. I remember wishing with all my heart that I had golden hair, because all the princesses were blond and the evil step-sisters and wicked witches had black hair. There were no dolls with brown skin or yellow skin or eyes like mine. Therefore, in my little girl mind, I could never be the princess. I was relegated to ugly duckling status forever.
Which is why I was intrigued by the recent dustup over a couple of dolls rushed to market by the company that made those wildly popular Beanie Babies. Ty Inc. calls the new dolls "Sweet Sasha" and "Marvelous Malia," and yes, they are African-American. And very, very cute. Coincidence? I think not.
First Lady Michelle Obama's mother-tiger instinct kicked into gear. Her press secretary said, "We feel it is inappropriate to use young, private citizens for marketing purposes."
To which the Ty company replied, "There's nothing on the dolls that refers to the Obama girls."
Oh please. Disingenuous and dishonest, don't you think? Of course the dolls are meant to represent the First Daughters. Of course they are a crass attempt to cash in on the Obama children's popularity. As a mother, I see how wrong that is.
And yet ... as a woman who remembers a little girl's search for identity, I wonder. Would my confusion have been lessened by the existence of a Sweet Sasha doll I could cuddle and love? Would I have taken for granted that my skin color, my eye shape, my straight black hair were beautiful and good? Would self-acceptance have come a little sooner, a little easier, if I'd had a Marvelous Malia to dress in princess gowns and sparkly shoes?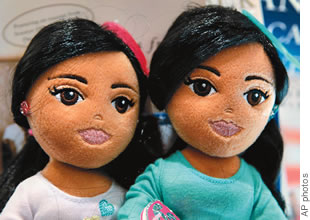 Dolls Sweet Sasha and Marvelous Malia

During the 1940s, psychologists Kenneth and Mamie Clark conducted the "Doll Test." By now, most people are familiar with the sad results. Black children, when given a choice between black and white dolls, chose the light-skinned dolls. When asked which were "beautiful and good," they selected the white dolls. When these young African-American children were asked which ones they thought they looked like, they pointed to the white dolls.
We have come a long, long way. Here in Hawaii we don't use that phrase "people of color." Almost all of us are people of color. But only recently have we had such a plethora of rainbow-skinned role models to look up to and emulate, at least on the national stage. "All-American" describes so many more of us now.
The Sasha and Malia dolls will be a big hit, and I admit it probably has more to do with the popularity of the Obama girls than with any huge break- through in race relations in this country. But crass as it sounds, the fact that a major doll company is about to make a killing by capitalizing on the popularity of two African-American girls is in itself an indication of how much things have changed. The girls who own these dolls, black, white, Asian, Latina or whatever they may be, will grow up accepting a wider definition of beautiful.
We have not quite achieved that vaunted post-racial society some have been touting, but we are getting there. And sooner than most of us had believed we could.
Most Recent Comment(s):