The Foodbank Cupboard Is Bare

By
.(JavaScript must be enabled to view this email address)
Wednesday - April 16, 2008
|
Share

Del.icio.us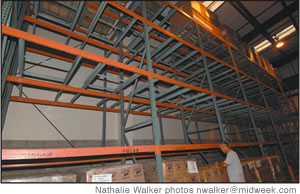 The Hawaii Foodbank's warehouse shelves are bare: The annual food drive is Saturday
"We have two small children and it makes me so sad that I can't feed them. We ration what we have and my husband and I sometimes don't eat just so they can have it."
Can you imagine being in the predicament of this Windward family - not being able to feed your children?
It's sad, and sadder still that it is becoming more frequent. Families that have suddenly lost income are staring at the very real possibility of having to choose between paying bills or buying food. I have a friend - a single mom - who is terrified she won't be able to pay her rent.
Many, like a Wahiawa woman who wrote to the Hawaii Foodbank, are reluctant to ask for help and are "very embarrassed to even have to look into this matter, but it is important for me to swallow my pride so my daughter can have a full tummy until our next payday."
A full tummy until payday. Such a simple request. We can help this mother, but we need to act quickly.
There really is a sense of urgency right now. I took a walk through the huge Mapunapuna warehouse a couple of days ago with Polly Kauahi, director of development for the Foodbank. She pointed to rows of shelves and most were empty, save for some bags of rice. No flour, no cereal, no pasta. The huge freezers, usually containing a supply of frozen meat and chicken, were bare. There were boxes filled with canned goods near the front of the warehouse, but not enough. Right now, Kauahi told me, the Foodbank has just an eight-day supply of food. That is a slim divide between survival and despair.
During the food drive this Saturday, April 19, I ask that you remember those empty shelves. And please consider giving a monetary donation. If you give just $10 you provide 25 meals. That is an excellent return on the dollar.
You can drop off your food and cash by driving right to the collection sites - and there are a lot of them: Restaurant Row; Koko Marina Center; Town Center of Mililani; McCully Shopping Center; Pearl Highlands Shopping Center/Pearl City Shopping Center; Windward City Shopping Center; Waianae Mall Shopping Center; Waiokeola Congregational Church in Kahala; Neighbor Island locations and various military locations.
One thing you probably won't see is volunteers venturing into the middle of the streets to collect your cash. Never fear, the "change angels" will still be there, but the Foodbank is concerned about their safety and yours so they will remain on the sidewalks. You can still give - and they're counting on you to do just that.
Who are you helping with your donations? People who just need a boost to get them through rough times. And nowadays more families are finding themselves in that precarious place.
"I barely qualified for Food Stamps," someone wrote. "They approved me for a whopping $28.75!! I'm not saying I'm ungrateful because every bit counts and we used that money to buy can food and meats."
The people who write to the Hawaii Foodbank hate being in the situation they're in. They have to swallow their pride and choke back fear. They don't want to ask for charity, but they look at their children and realize they have no choice. They are afraid for themselves, but mostly for their kids.
Can you blame them?
Even more important, can you help?
Most Recent Comment(s):