The Need For Blood Takes No Holiday

By
.(JavaScript must be enabled to view this email address)
Wednesday - December 01, 2010
|
Share

Del.icio.us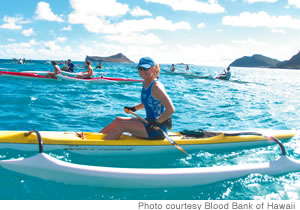 Blood donors kept Sharon Bartels alive during her battle with leukemia, and now she's back in the water again
Canoe paddler Sharon Bartels remembers the best gift she ever received -and it wasn't something bought in a store.
It was blood - and she needed it to stay alive.
"I would always look at the blood going into my IV," Bartels says, "and wonder who the donor was. Did they have children or grandchildren? Did they paddle canoe like I did? Were they active in the community? What inspired them to donate blood?"
Even before she was diagnosed with stage 4 acute leukemia, Bartels knew the value of those donors - she was one of them herself. She gave at least twice a year, and says she saw it as a small sacrifice to benefit a person in need. The importance of that "small sacrifice" hit home when Bartels got sick. While she waited for a bone-marrow transplant, she received blood and blood products.
"I was usually very, very sick by the time I would get the red blood or platelets," Bartels says. "I was really out of it and always looked forward to it, believe it or not.
"I would watch the blood drip into my IV, and I chanted a little mantra to myself - 'Thank you, thank you, thank you ...'- until I would drift off to sleep. And I always awakened feeling totally energized and full of life, and ready to go another step in the direction of fighting my cancer."
The reason she's speaking now is because she knows that blood is in short supply at this time of year.
"During the holidays it is tough on the state's blood supply," says Maura Dolomente of the Blood Bank of Hawaii. "We are already feeling it. You know how crazy it is during the holidays."
Yes, we are busy! We're shopping and cooking and working extra hours to get ready for the seasonal celebrations, so it is not surprising that donor turnout is traditionally low from Thanksgiving week through the first week of January.
But Dolomente points out that the need for blood doesn't take a holiday: "We need about 200 pints every single day."
Giving blood isn't difficult, and it doesn't take long. Here's what the Hawaii Blood Bank's website says about the procedure:
"From registration to refreshments, the entire process of donating blood takes about an hour and includes the following six steps:
1) Paperwork: Each donor is given a questionnaire to fill out.
2) Vital Signs Check: A Blood Bank of Hawaii staff member will check your blood pressure, pulse, temperature and hemoglobin level.
3) Confidential Interview: A Blood Bank of Hawaii staff member will review your medical history with you.
4) Collection: The actual collection of blood takes only five to eight minutes. Anew, sterile and disposable needle is used to draw one pint of your blood.
5) Rest: Remain seated for a few minutes. Drink lots of liquids to help replenish your fluids.
6) Eat: Be sure to have some refreshments before you leave and enjoy hearty meals throughout the day."
I've done it myself, and it is easy and painless. Best of all, you know that what you are doing could save someone's life, someone like Bartels, who today is healthy, active and most of all grateful.
"Today, I paddle, run, ride my bike, ski and hike," she says. "People say they would never know that I once had leukemia. I am so grateful and happy. I cannot thank the donors enough for their selfless commitment to saving my and other peoples' lives."
Bartels is no longer able to give blood, but she hopes one of you will read about her and be inspired to become a donor. It would be the best Christmas present you could give a person whose life depends on the generosity of donors.
"There is no doubt in my mind," says Bartels, "that had I not received blood or platelets, I would not have survived."
If you'd like to find out how you can donate, go to the Blood Bank of Hawaii website at BBH.org.
Most Recent Comment(s):