The Struggle To Save Little Jaziah

By
.(JavaScript must be enabled to view this email address)
Wednesday - February 10, 2010
|
Share

Del.icio.us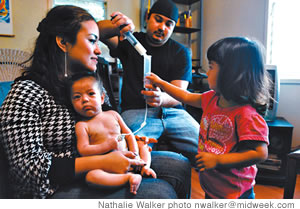 Caring for Jaziah is a full-time job for mom Desiree, dad Jason and sister Lani Nozawa
He's a miracle baby, that's for sure. -Desiree Nozawa
The miracle baby's name is Jaziah, and he is 6 months old. I went to an out-of-way farm in Kaaawa to meet him and the rest of the Nozawa family: Jason, Desiree and 2-year-old Lani.
Now, I'm a writer, but sometimes words just seem inadequate. It's how I felt when I saw the red scar running down the length of Jaziah's tiny chest and stomach.
It's how I felt when his dad Jason, 26, told of sitting up at night and crying tears of relief - because his son was finally home.
It's how I felt when his mom Desiree, only 22 years old, talked of shouldering the heavy responsibility of caring for a fragile child: "It's good. It's a good responsibility."
When Jaziah was born last July, he looked like a normal 6-pound baby. The first clue that something was amiss came when they took him home. He was blue around his nose and mouth. Don't worry, the medical staff told them, it's just bruising from the birth canal. It'll go away.
It didn't.
It took an extended bout of jaundice, extensive blood work, nine doctors and a lack of weight to make one thing very clear: Jaziah was sick.
But with what?
They found the answer when Jaziah was admitted to Kaiser. An X-ray revealed that his heart was enlarged, and soon after the doctors gave a diagnosis: total anomalous pulmonary venous return. In simpler terms, the major veins were, in his parents' words, "flipped backwards," and he had a hole in his heart. That very day plans were made to fly him to Rady's Children's Hospital in San Diego. There are no pediatric cardiac surgeons in Hawaii.
It was the beginning of a four-month nightmare.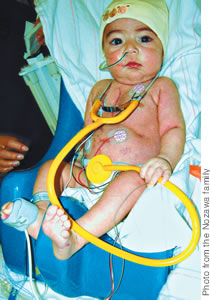 Jaziah at Rady's Children's Hospital in San Diego
On the way over, Jaziah's heart started failing. They had to turn the plane around and rush back to Oahu. Once back at Kaiser, the 2-month-old was put on a heart-lung bypass machine, and doctors again made plans to fly him to the Mainland for surgery. But there was a catch, and it was potentially lethal.
The Federal Aviation Administration in 2008 put into place new regulations requiring that any aircraft with a generator on board had to be within three hours of land at all times during the flight. There were no exemptions for Hawaii.
The heart-lung machine required a generator, and that meant Jaziah could not be transported. Everyone scrambled to cut the red tape, but the delay took five impossibly long and horrible days.
Jaziah, who was on blood thinners, started to bleed.
Desiree: "The entire week we were waiting he was sitting in a puddle of blood 'cause they couldn't change his dressing."
Jason: "He had blood coming out of his nose, out of his mouth, out of every single IV, he had just blood everywhere."
Desiree: "He was getting blood transfusions every other hour."
Jason: "It was just the craziest 'cause we couldn't get him out and this baby was just dying. We couldn't get the signature to fly him out."
Jaziah got weaker and sicker. It wasn't until U.S. Sen. Dan Inouye got personally involved that the signature was approved.
But there would be no happy ending. Not yet.
Even after the corrective open-heart surgery, the baby remained on life support, tied to a respirator and oxygen for two-and-a-half months. He suffered two collapsed lungs. He was on dialysis for a month. The extensive use of a catheter damaged his intestines. Jaziah has had three major surgeries. His parents even had to watch as their tiny baby, addicted to narcotics like morphine, went through withdrawal symptoms and suffered the shakes.
Jason: "We went into depression. We weren't answering our phones; we weren't talking to nobody. And just being in the place where we were was even more depressing 'cause everyone had a sad story."
Desiree: "'Cause it's a children's hospital and every-body's kid is sick. Or dying or ..."
Jason: "We've seen kids die who were in the same situation as ours ..."
Desiree: "So it's definitely an eye opener. It made you realize everything that you have."
But Jaziah got better and they were able, finally, to come home. Now back for two weeks, they face an entirely new set of challenges: Jaziah needs to be fed six different medications every few hours, day and night. He doesn't know how to eat; they will have to teach him how. They funnel food and medications through a tube directly into his stomach because, Desiree explained, he was intubated for so long that "now he thinks everything that goes in his mouth is bad."
They are trying to establish a semblance of normal family life, especially important for Lani. She may not understand what's going on, but she does love her little brother.
And "normal" will mean finally getting to do something that the baby's illness interrupted - get married. They were supposed to tie the knot on Dec. 5.
Desiree: "We were planning it for like a year. So we had saved. It's such a good thing we had saved up for that."
Jason: "I spent everything I had in my checking and my savings. We probably spent everything we had, $6,000 or $7,000 each."
Desiree: "We don't need a big wedding. But we still have to make plans."
They have boxes full of invitations sitting around, useless now, but they don't care. Their baby is their No. 1 priority.
And he's getting stronger. Soon after they arrived home, Jaziah held his head up for the first time. It was a great, great day.
Jason: "Some nights I sit up crying ... because I'm so happy he's home."
Desiree: "But the whole experience made us closer. It made us stronger people, stronger together, a stronger family."
The Nozawas depleted their funds and have yet to receive a final bill for the surgeries and hospital care. They estimate it'll be tens of thousands of dollars at the very least. Neither is working because right now taking care of Jaziah is a full-time job.
If you'd like to help them defray a portion of their debt, you can donate at any First Hawaiian Bank,where a special fund has been set up for Jaziah Nozawa, or call Jed Roa at 479-6004.
Most Recent Comment(s):