The Visionary Dr. Livingston Wong

By
.(JavaScript must be enabled to view this email address)
Wednesday - June 18, 2008
|
Share

Del.icio.us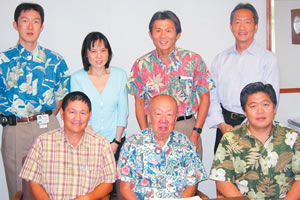 The transplant team (clockwise from top left): Dr. Makoto Ogihara, Dr. Linda Wong, Dr. Whitney Limm, Dr. Alan Cheung, Dr. Hiroji
Our family celebrated Father's Day in the usual way. We all crammed into my parents' condo in Mililani and ate too much. It was low-key, happy and pretty typical thanks to the vision of one man.
That man, Livingston Wong, once told a reporter he wanted to be a taxi driver when he was a kid. Somewhere along the way he decided instead to become a doctor, and thousands of Hawaii people are thanking him for changing his mind. I happen to be one of them.
Dr. Wong, you may or may not know, performed Hawaii's first kidney transplant in 1969. He performed the state's first bone marrow transplant. He assembled a highly skilled team of surgeons and together they pioneered the field of organ transplantation in Hawaii to include kidneys, bone marrow, livers, hearts and pancreas.
Still don't think his life has affected yours? Have you ever called 911? Wong established the emergency system as we know it today. Because of him we call one number for all emergencies. He made sure that when para-medics come to our aid they are highly trained to handle any situation and in constant communication with emergency room doctors. His 911 system may have saved you or someone you know.
He also passed on his passion to his daughter - Dr. Linda Wong is also performing transplant surgeries.
In thanking Dr. Wong for saving my father from a lifetime of dialysis and deteriorating health, I realize he didn't actually do the surgery himself. That fell to my surgeon, Dr. Whitney Limm, and my dad's, Dr. Alan Cheung, both members of the crack surgical team assembled by the man they affectionately call "Livi."
Limm and Cheung use the same words to describe their mentor- they call him visionary, open-minded and brilliant. But they also describe him as generous and compassionate.
"He's very humble," says Limm, "a lot of people look to him for guidance and leadership but he's very quiet about it. He's not very assertive, doesn't say much, but people listen when he speaks."
Cheung was a medical student at Harvard when he met the man already known as a master surgeon. Later, when Wong offered him a position on the transplant team in Hawaii, Cheung was happy to accept.
"At that time it was a very exciting field; it was the cutting edge of general surgery. I decided to come back and join him and help develop the transplant program in Hawaii."
Cheung and Limm, also Harvard-trained, had the option to go anywhere in the world. Like all the doctors on the team they were well-trained and could have chosen big, established programs elsewhere. They saw the risk of moving to a place where the program had to be developed from scratch. But they took that risk and brought their skills home.
"In retrospect," Cheung says, "it was one of those points in your life when you go down a path where you wouldn't have otherwise."
Limm says Wong's brilliance was a major consideration in his decision to come home.
"He had the ability to approach a clinical problem from a system standpoint," Limm says. Today's dialysis, transplant and emergency 911 systems are proof of that ability.
But equally as important for Limm was his mentor's humanity. Livi always put his patients first.
"He paid attention. Listened to them. Cared about them. I always want to look up to someone and remind me what it's like to do the right thing."
Glen Hayashida, who heads the Organ Donor Center of Hawaii, looked up some statistics for me. Since 1988, about 1,000 transplants have been performed in Hawaii. My dad was just one of the lucky ones.
Dr. Wong's birthday is this month. He's 78 years old and too modest to toot his own horn. He hates talking about himself, which is why I didn't tell him I was featuring him in my column. Call it a surprise birthday present from a grateful daughter.
Despite his humble refusal to put himself in the spotlight, it is a testament to his rich, committed life and enormous contributions to our community that he has been honored again and again - praised by his colleagues, by the top leaders in our state, and by the thousands of people whose lives he has transformed. I would like to add my small voice to the chorus. Thank you, Dr. Wong. And a happy birthday to you.
Most Recent Comment(s):