Transplant Miracles, Harry Grows Up

By
.(JavaScript must be enabled to view this email address)
Wednesday - August 12, 2009
|
Share

Del.icio.us
This past weekend Hawaii celebrated a milestone: the 40th anniversary of the first kidney transplant ever performed in the state. This momentous act paved the way for a hugely successful program that has given hundreds of people a reprieve from certain death. The Transplant Institute of the Pacific honored grateful patients and also the surgeons, nurses and other medical staff who have been a part of a program that has given 1,300 people a second chance at life. The program has grown over the years and now includes bone marrow, heart, liver and pancreas.
I was honored to emcee the event, and it was all the sweeter when I looked into the audience at my Dad's smiling face. The Transplant Institute changed our lives, too. Aug. 30 is the anniversary of our transplant experience - hard to believe it's been four years. Every year Dad takes us out to dinner to celebrate. It's really not necessary. I get my reward every time I see him looking healthy and active. But he insists. And it's always a happy, happy event. So we owe the Transplant Institute a huge mahalo as well.
---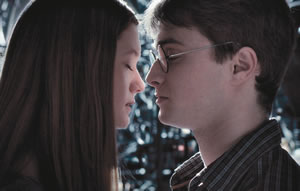 Bonnie Wright and Daniel Radcliffe in a scene from Harry Potter and the Half-Blood Prince
We saw the newest Harry Potter movie and afterward my husband remarked, "Those kids look like they should be in college by now." Which is, of course, true. They all are older than the characters they play. Not only are they physically more mature, the themes of the movie have evolved as well.
My son thought the movie was hilarious. All that boy/girl interaction. The snogging (kissing) jokes. The mild sexual innuendo (which mostly went right over my son's head), the comedic misunderstandings and, of course, the naughty use - or rather misuse - of the love potion.
And then it turns scary. And very, very sad. I won't spoil it for those who haven't seen the movie or read the books, but I will say this: Harry Potter and his magical gang are almost all grown up, and they are now seeing - and battling - the real deal: evil - pure, dark and powerful, the kind that can generate nightmares in unsuspecting little kids. If you bring a 7-year-old to this movie, be aware that they may be a) bored, b) scared, or c) bored and scared.
Harry Potter may have started out being all about magic and Quidditch and "every flavor beans," but no more. Growing up is hard. In the movie, as in real life, a child's innocence is pierced, pulled and battered by the transformative forces of "reality." The child must navigate tricky moral terrain, learning that good and evil aren't always easily distinguished, and what you see isn't necessarily what is real. The child learns a painful but important truth: You can't trust everyone. But he or she also discovers another truth, just as important, that you need to trust someone. Friends are gold, love is powerful and those, plus your own inner compass, are what you need to keep the dark at bay.
It was interesting to me that the row right in front of us was filled with teenage boys. They were quiet and involved. Like my son, they are kids on the cusp of adulthood - watching one of their childhood heroes grow up alongside them. The Harry Potter magic may be different to them now, but it's not gone.
Most Recent Comment(s):