'Heaven' Can't Wait

By
.(JavaScript must be enabled to view this email address)
December 14, 2011
|
Share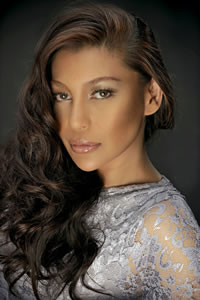 It happens to just about every entertainer at some point in his or her career yes, even to out-of-this-world vocalists and bigstage veterans such as Lani Misalucha. It's the dreaded how-did-I-just-forgetthe-dang-words-to-this-song-that-I'vesung-a-million-times-before? moment.
Misalucha's mental block occurred a few years back while performing God Bless America with the variety troupe Society of Seven at the Flamingo Las Vegas Casino & Hotel. It was a number that, in theory, should have gone off as smoothly as an experienced casino worker dealing a deck of cards at a nearby blackjack table. Yet, when it came time for the Siren of the Strip to sing the words "through the night with a light from above," all went inexplicably dark in her mind.
"I don't know why; I just couldn't remember," Misalucha tells me while chuckling at the memory she wishes she'd forget too. "I truly didn't know what to do, so I just closed my eyes and tried to feel the song, hoping the words would come back to me."
The lyrics didn't return immediately, but for the temporarily paralyzed performer, it really didn't matter. Turns out the crowd loved her incomplete rendition of the patriotic classic as many were visibly moved to tears.
"The people thought it was all part of the show and found it very touching," she says.
Moving audiences is something the Manila-born Misalucha learned to do long ago, thanks to her mind-bending five-octave vocal range and onstage versatility as a performer of pop, Pinoy rock, jazz, soul, opera and classical music. Her sizzling-hot shows along the famed Las Vegas Strip have showcased her ability to masterfully impersonate pop icons such as Tina Turner, Diana Ross, Beyonce and Britney Spears, and led to her being named Best Singer by the Las Vegas Review Journal in 2008. Yeah, take that, Celine Dion and Wayne Newton.
But now after seven years of nightly performances in Sin City, Misalucha has decided to move her act to these shores. The Lani Misalucha Show kicks off Dec. 20 at the Magic of Polynesia Showroom at the Holiday Inn Waikiki Beachcomber Resort, with nightly shows of this special engagement continuing through next March.
"I can't wait to get back," she says of relocating to Hawaii, a place she first visited a decade ago. "Who wouldn't want to stay in Hawaii? It's such a beautiful place to work and live."
As for her show, it's expected to mirror the glitz and glamor of her Las Vegas acts.
"At first, the thought was to do a small show at a club," explains Misalucha, 42. "But maybe about a month ago, the thinking was to do something bigger in Hawaii. That's what we're planning."
Musical Notes caught up with Asia's nightingale and got her to shed light on life in the Philippines and her eventual move to the United States.
MN: Who named you Lani? And did that person realize the name's heavenly connection to these Islands?
LM: My mom thought of the name, but she probably never realized it was Hawaiian when she named me. It does have a beautiful meaning, though, doesn't it? Heaven.
MN: You grew up in a musical family. Your dad, Benjamin Bayot, was an operatic tenor and your mom, Esperanza Dimalanta, was a coloratura soprano. Even your siblings play instruments, sing in bands or have professional acting careers. So a career for you in show business was in the cards all along, right?
LM: Actually, no, and that's the ironic part. I'm really a late-bloomer. To begin with, I'm a very shy person. Growing up, I would always be in my own little world. I had friends, but I was never the kind of person that would be out there socializing; I would just stay at home. It wasn't until much later when I was able to shed my inhibitions and learn to express myself more. So, growing up, most people did not see me as a professional entertainer.
With my parents, while both of them are musically inclined, they were the first ones to discourage their children from having careers in music or in show business. My dad once told one of my sisters, You'll never get a decent job out of music. That's why my siblings and I did not take up music or get into the arts when we were younger. By the time I entered college at the Philippine Christian University, I was prepared for a career in business management.
MN: And yet you eventually found your way into the entertainment industry. What happened?
LM: One day, I found myself doing vocals with a band that was playing at a hotel. I asked my mom if I could do it and she said yes. I think she agreed because I would be able to help her by paying my tuition fees.
MN: You actually enjoyed a pretty successful career in the Philippines with albums, concerts and TV shows. Why did you decide to leave that behind and relocate to the United States in 2004?
LM: It was just something I had been thinking about for some time. I actually initiated talk with my husband, Noli, about migrating to another country back in the 1990s, after we had started our family and my two daughters were young. He didn't think much of the idea at the time, so the thought of moving was put on the backburner. The idea came up again in 2003 and my husband was OK with it. At first, we were planning on migrating to Canada. But then we ran into a producer friend of ours, Mendrei Leelin, and he suggested we start a show in Las Vegas. We did and we've been there ever since.
MN: Until this week. Now, Las Vegas' loss is Hawaii's gain, eh?
LM: Hopefully. I really don't know how successful the show's going to be. But we're hopeful, and we plan on doing everything we can to make it a success.
Most Recent Comment(s):