The Pride Of Molokai

By
.(JavaScript must be enabled to view this email address)
December 21, 2011
|
Share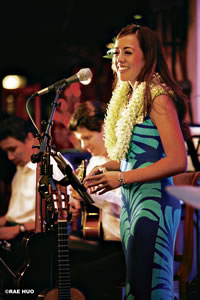 Raiatea Helm shines in her latest solo album project, Sea of Love. Rae Huo photo
Songstress Raiatea Helm continues to deliver the 'wow' factor to audiences both small and large, thanks in part to her latest album
If you want to know where Raiatea Helm's breakout, "Hey, world, here I am!" performance occurred, well, it didn't happen in front of hundreds of adoring fans. Like many other artists before and since, her unveiling came in a much smaller, more intimate setting.
She was just 15 at the time and attending a family member's birthday party at the old Sheraton Kaluakoi resort in western Molokai when, out of the Pacific Ocean blue, Raiatea's mother asked her to pick up an ukulele and sing for the ohana. The request wasn't completely out of the ordinary given the family's rich music pedigree, except for the fact that no one other than possibly her parents viewed young Raiatea as a singer, let alone a leo ki'eki'e performer in the same vein as, say, her late uncle, gifted falsetto vocalist and native Hawaiian activist George Helm. To most, Raiatea was a beautiful hula dancer. But a songstress with the rare ability to hold eternity-long notes a la Aunty Genoa Keawe? Nah.
"No one really knew what I was going through with my ukulele playing and singing," explains Raiatea, who was more of a closet musician back then. "But there I was, this little 15year-old girl busting out her ukulele in front of the family and everyone was like, 'Oh, so cute. What is she gonna do?'"
Simply put, she was going to wow 'em even to the point of leaving some of 'em in tears. In performing
Pua Tuberose, a song she fell in love with after hearing Nina Keliiwahamana's rendition of the classic, Raiatea won over her first set of fans. In the days immediately following the birthday party performance, family and friends vigorously implored her to enter the annual high school competition, Brown Bags to Stardom. But in typical localstyle "No, I shame!" fashion, she resisted the advice.
"I wasn't ready. I was so young and still shy," says Raiatea, now 27.
Thankfully, her stance softened in time and she wound up entering and winning the competition at Molokai High. Three years later, armed with a recording contract and greater confidence in her musical abilities, she released her first album, Far Away Heaven, which earned her two Na Hoku Hanohano awards for Female Vocalist of the Year and Most Promising New Artist. Since then, she's garnered six additional Na Hoku awards, been nominated twice for a Grammy, and continued to wow much-larger audiences from New York City to Japan.
More recently, she unveiled her fifth album, Sea of Love, a transcendent effort that reveals Raiatea's maturing voice as a new traditionalist of Hawaiian music while treating listeners to a bygone era when the "Hawaiian Club" sound was all the rage. Blessed with noteworthy songs such as Nani Hanalei, Namolokama and Lihue, and thanks to the instrumental contributions of veteran recording artists such as guitarists Jeff Peterson, Sean Naauao, Bobby Ingano and Wailau Ryder, upright bassist Dean Taba and percussionists Noel Okimoto and Lopaka Colon, Sea of Love is destined to become a must-have CD for people of all generations.
"You have to love doing this," says Raiatea about her career as a professional musician. "And I absolutely love what I do."
Musical Notes caught up with the gifted artist and got her to chat about her recent Fellowship award and life on the Friendly Isle.
MN: The Native Arts & Culture Foundation recently recognized your body of work in traditional Hawaiian music by awarding you a Fellowship in Music. Surprised?
RH: Oh, yes! To be nominated by peers makes me proud to know that people support my music as well as the importance of perpetuating traditional Hawaiian music, especially for my generation and the generations after. It's really exciting and overwhelming, and to receive something so grand wow!
MN: Speaking of generations, you seem awfully young to possess an old soul when it comes to traditional Hawaiian music. Shouldn't you be singing hip-hop, reggae and Jawaiian music like your contemporaries?
RH: I was in that place too, listening to pop and hip-hop music. But growing up, I was also a good listener who always paid attention. And since I was really close to my tutu, I became connected to the old style of Hawaiian music. For me, that style was always natural.
MN: You pride yourself in being a down-to-earth local girl who, despite a decade worth of success, hasn't forgotten her roots. Do your friends on Molokai still see you as such?
RH: Absolutely. I'd like to think I'm still that funny girl who makes everyone laugh. And I think my friends like knowing that I can go back home and they'll still see the girl who doesn't wear makeup, but does love to wear Tshirts, surf shorts and slippers, and is just herself.
MN: Let's say that moment at age 15 didn't happen. What would you be doing instead?
RH: I've always had an interest in anthropology, so I'd probably be doing something that involves Hawaiian studies, the language, something close to home. But fortunately, I have music. So I plan on singing and making people happy for as long as I can.
SMALL-KINE notes:
High-energy jazz music is on tap this week with the return of local boy and world-class trumpeter Eric Miyashiro. The one night-only performance is slated for 7 Thursday at the Pearl City Cultural Center, where Miyashiro, a McKinley High graduate, figures to thrill audiences with the trumpet-playing skills he honed while performing with the Count Basie Orchestra, the Frank Sinatra, Mel Torme and Natalie
Cole bands, as well as artists such as Paul Anka, Stevie Wonder, Sammy Davis Jr. and Dizzy Gillespie. Tickets are $30 in advance, $35 at the door. Call 550-8457 or visit honoluluboxoffice.com for more information.
Most Recent Comment(s):