The White-Hot Guitarist

By
.(JavaScript must be enabled to view this email address)
January 25, 2012
|
Share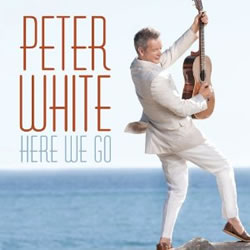 Peter White has been on fire since the guitar "chose" him years ago. Now, the man with chart-topping jazz songs, awards brings his high-energy show to Hawaii
The year was 1975. Peter White, 21 at the time, had just landed the gig as keyboardist for folkrock singer Al Stewart when his versatility as the band's newest member was immediately put to the test. Stewart had been hoping to capitalize on the rich sounds produced by the nylon string guitar, and had challenged the young keyboardist to pick up the modern classical instrument and come up with an accompaniment for the composition On the Border.
Until then, White had no experience with the nylon string instrument, even though the Luton, England, native grew up idolizing Jimi Hendrix and had even received his first guitar from his parents at age 8. Stewart, however, didn't seem at all worried about White's unfamiliarity with nylon under his dexterous fingers, and the challenge remained to "pluck away."
"I told Al that I'd give it a go. But I warned him that I hadn't played Spanish guitar before," White remembers. "He wound up giving me his Spanish guitar and I had to learn how to play it."
Now decades after their first encounter, White and the nylon-string guitar are an inseparable pair. In the years since, the two have made beautiful music together, churning out 12 smooth jazz albums with the 13th, Here We Go, due out March 13. Some of his songs have reached No. 1 on the Billboard Jazz Song charts among them,
What Does It Take (To Win Your Love), recorded by Jr. Walker & The All Stars; and Midnight In Manhattan, recorded by Grover Washington Jr. As a result, he's been named Best Guitarist by the National Smooth Jazz Awards (2000-2003), Best Guitarist at the Oasis Contemporary Awards (2000) and Best Smooth Jazz Musician at the Canadian Smooth Jazz Awards (2007).
Thank goodness White, one of the most versatile and accomplished acoustic guitarists on the contemporary jazz scene today, chose the six-string instrument. Or was it the other way around?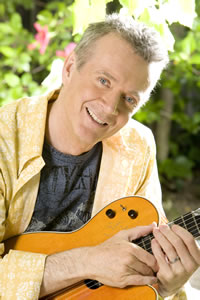 White brings his distinctive guitar stylings to Hawaii Feb. 11. Photo courtesy of Peter White
"Actually, it chose me," White tells Musical Notes. "Whenever I would play the nylon string guitar, people would respond and say, 'Wow, that's a great sound! You should do more of that.' If I played piano or electric guitar, nobody took any notice. So I kind of went with it.
"I suppose I should really thank Al Stewart for putting that nylon-string guitar in my hands."
Fans will be able to do likewise thank White personally for his musical contributions (more on this later) when he and his L.A. Band, which includes saxophonist Michael Paulo, stage a concert Feb. 11 at the Hawaii Convention Center's Liliu Theater. The show begins at 8 p.m. Tickets can be purchased at TIX.com or by calling (951) 696-0184.
For White, the concert will mark the fifth time he's performed in the 50th State in the past four years. It won't, however, mark the first time he's trading chops with Paulo.
"The first time I heard Michael play, he was backing up Bobby Caldwell in the early '90s," says White of Paulo, whose company, Apaulo Music Productions, is staging the event. "I thought he sounded great then and I think he still sounds great today."
So does White, whose high-energy shows are well-worth the price of admission. I caught up with the whitehot guitarist and got him to talk about a variety of topics, from his still-burgeoning career at age 57 to the animal that tugs at his heartstrings.
MN:Your ability to fuse elements of jazz, pop, rock 'n' roll and classical guitar into a singular sound is one of your greatest strengths. Yet, most seem to limit you by lumping you into the smooth jazz/jazz fusion guitarist category? Does this annoy you?
PW: I don't really take any notice of the genres that people describe me as being in. I think it's quite humorous, actually. I just play music that I like, that turns me on. I like many different styles of music. If you listen to my CDs, you'll hear a little bit of disco, a little bit of rock, a little bit of reggae here and there, and a little bit of jazz. Everything I ever grew up listening to is in my music.
MN: Over the years, you've had the privilege of playing with many talented musicians Al Stewart and Basia, to name just two. Is there anyone missing from your bucket list of people you're still hoping to perform with?
PW: I just recorded a song with alto saxophonist David Sanborn for my new album. He was the only person left on my list. I've certainly been very lucky in my career. In just over 20 years as a solo artist, I've met a lot of my idols and been able to play with most of them.
MN:You tasted commercial success early in your pre-solo career with Time Passages, a Top 10 song back in 1978 that you co-wrote with Stewart. How did that song come to be?
PW: Al asked me to come up with some musical ideas and one of those was the keyboard introduction to Time Passages. He took that, added some lyrics, then I added a few more musical parts and eventually we had a song. That was one of the first songs we wrote together. We would go on to write many more songs together after I first joined him on the album Year of the Cat.
MN: Speaking of cat, here's a hardhitting question: Are you more of a dog or cat person?
PW: Cat. I always had cats as a child growing up in England. When I got to America, I immediately adopted one and called her Queen. She lived with me for 18 years, which is longer than most marriages! Since she passed away, I've had many cats in my home all of which I've adopted. My wife and I do have a relationship with an animal shelter in California, and whenever they want us to be foster parents for cats, they'll give us a litter of kittens to care for.
MN: You're someone who likes to get up close and personal with fans during and after your shows. Are you always that accessible?
PW: I feel lucky because I've had an amazing life, and I don't ever take it for granted. I feel I owe it to all the people who buy the music and come to the shows. That's why I always try to stay behind and meet all the people. It's my way of giving back.
Most Recent Comment(s):