Waipuna Enjoys The Ride

By
.(JavaScript must be enabled to view this email address)
January 04, 2012
|
Share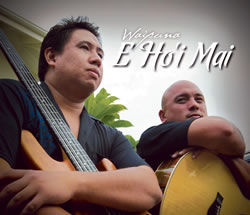 On a journey of self-discovery, musicians Matt Sproat and Kale Hannahs pour their 'heart and soul' into the group's stellar sophomore album, E Ho'i Mai
Sometimes it takes getting far away from your usual surroundings to finally hear what matters most to your soul.
Just ask Matt Sproat. Raised on all types of music, including Christian hymns, the Hauula resident traveled 4,000-plus miles shortly after graduation from Kamehameha Schools to enroll at a tiny Bible college in Ohio, thinking that the move would, in part, bring him closer to his first love heavy metal. Yet for every electric guitar riff he heard while in Columbus, he found himself hungering instead for the familiar, simpler stylings of Hawaiian music.
"I loved Slash (Guns N' Roses guitarist). But it wasn't until I went to college that I got really homesick," Sproat recalls. "One day I called a friend back here and told him to put a cassette in the tape player, record the music from a Hawaiian radio station and then send it to me. Once I got the tape, I played it over and over again especially the third song on the tape, Leimana, from Hui Ohana until it finally broke.
"That's when I realized I wanted to be a Hawaiian musician."
A wise decision, indeed. Upon returning to the Islands, Sproat immersed himself in the music circuit and eventually wound up winning the 2003 Aloha Festivals' Big Island Falsetto competition. Five years later, the guitarist/vocalist formed an alliance with ex-Alea bassist/vocalist and fellow Kamehameha Schools alumnus Kale Hannahs, and named their new outfit Waipuna, or spring water. Just a year later, the duo put out Mana'o Pili, an album that elicited admiration from Hawaiian music lovers everywhere. And just last month, Sproat and Hannahs released their second CD, E Ho'i Mai, a worthy sophomore effort featuring timeless classics such as Kona, Nani Helena and 'Ainahau, as well as original character-shaping compositions Nui Ke Aloha No Kaua'i and 'O Koke'e.
"We put a lot of heart and soul into E Ho'i Mai," Sproat says. "I've been telling people that if they really liked our first album, they're going to really enjoy this one."
One reason why fans may enjoy E Ho'i Mai even more is the group's decision to expand from a duo to a trio recently with the addition of ukulele master and Na Hoku Hanohano winner David Kamakahi.
"David really brings the Waipuna sound to the next level," says Hannahs of the band's newest member, another Kamehameha Schools graduate who happens to be the son of noted slack key guitarist and music composer Rev. Dennis Kamakahi.
Musical Notes caught up with Sproat and Hannahs just before their set at the Ilikai Bar and Grill, where they perform every Tuesday evening, and got them to talk in greater detail about all things Waipuna.
MN: How did the band come to be? MS: After winning the Big Island song competition in 2003, I recorded the song Pohai Kealoha for a compilation CD. A few years later, these kumu hula wanted their halau to dance to my version of the song during their ho'ike in Japan, and they wanted me to fly up right away and perform the song live. None of my band members could make the trip on such a quick turnaround, so I turned to Kale and he agreed within 20 minutes to fly up with me. That was the first time we performed as a duo, and after returning to Hawaii, we played a couple of gigs together. But it really wasn't until about eight months after that trip to Japan, in May of 2008, that we both looked at each other and said, you know what? We might have something here!
MN: Your vocal and instrumental stylings work well together. Was that apparent from the beginning?
MS: My style of playing is very aggressive; so is Kale's. When the two of us got together, it was just two instrumentalists going off, and that allowed us to really mesh. As far as our singing goes, we were both backup vocalists in our previous groups, so we knew how to support each other vocally.
KH: Matt is more of a natural showman. For me, it took me awhile to get to that point. We try to sing with a passion, vocal intensity things that I was easily able to relate to when Matt sang. That's how I became a better singer than when I was with Alea. In Waipuna, you cannot hide behind another part because vocally, there's only him and me.
As for my bass playing, it began in high school, where I would always get scoldings from the music conductor because I would improvise and add in my own parts to classical pieces. With Hawaiian music, I realized I could improvise more and add a very busy bass line. I was like, what, no conductor? Nothing to follow? I'm just going to start making up my own stuff!
MN: What was the song selection and writing process like for E Ho'i Mai?
KH: Last February, we started taking little field trips to places where we could work on songs. To prepare for that, we came up with a list of classic songs and found out who the composers were, the meanings behind the songs, when they were last recorded and who recorded them. We then trimmed that list down to about 15 songs and then started working on different arrangements.
As for our original compositions, we try to work out as many of the kinks as possible before bringing it to the other for consideration. Once we're together, we Waipuna-ize the songs, if you will, meaning we push each other by trying to make every song into a hit.
MN: Which is more enjoyable recording original music or redoing a classic?
MS: For me, I don't really like to do my own songs. It's almost like an artist who paints a picture, hangs it on the wall and then keeps going back with a paintbrush to fix it with more strokes. I guess I'm like that because I don't know how to leave my songs alone.
MN: Do you like where you're at? KH: Oh, yeah. You never really know where the journey will take you, but we just feel fortunate to be where we're at and we plan on just enjoying the ride."
Most Recent Comment(s):