Darren Benitez

By
.(JavaScript must be enabled to view this email address)
Friday - February 01, 2008
|

Del.icio.us
The 411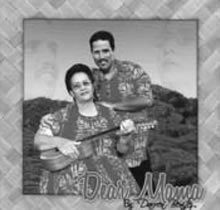 Dear Mama
Making good on his kolohe childhood days, Darren Benitez's newest album release Dear Mama doubles as a tribute and apology to his mother.
Mama Benitez also makes a guest appearance on the album singing with her son, I've Got A Mansion.
"Practically, this album is centered around my mom," says Benitez. "I always wanted to feature her and have her on one of my recordings. And I actually wanted to have her on my first CD, so this time I got her in the studio with me."
In 10 years since the release of his second album Mother of the Sea, Benitez has had lots of time to fine tune and sculpt the album into what he feels is his best yet.
"This album is more polished and involved more hard work and concentration," says Benitez."I am more satisfied with the sound than I am with the first and second one. This one I really pushed it harder."
One of Hawaii's greatest falsetto singers, Benitez says that he always loved music, but he was always too shy to actually sing in front of people.
"I remember one day I came home from school, and while I was cleaning the house, I was singing along with one Hui Ohana album. I never know our neighbor was in the kitchen, and she told me, 'You have nice falsetto.' And I was like, what is that? I never even know what the word meant. I was about 17 or 18. So singing was always in the back in my mind, but I was always shy."
With 20 years in the music business, now it's no shame. Try asking him what falsetto means now.
Q'nA
You wrote the title song Dear Mama. Can you talk about your inspiration to write that song?
That song took me about six or seven years to write. I had to search my soul. When I was younger, I would always use my mom's van and tell her that I'd be right back and not come home until the next day. My sister used to tell me that I should have called because Mom couldn't sleep. I never understood all that until one time I got home and I could hear my mom gasping for air. Then I could hear what my sister was trying to tell me. I felt funny, and the words just started to come to me. Every now and then I would add on words. It's like a letter of apology.
You dedicated this album to Robbie Lindsey Sylva, who passed away in 2006. Can you talk about your relationship with him?
We grew up together. I met him in ninth grade. We lived in the same neighborhood and we used to hang together. I didn't sing when I was growing up, so in my early adult days, he and my other friend heard me sing and asked me if I wanted to record. So they gave me a break.
What kind of music did you listen to growing up?
A lot - Hawaiian, Puerto Rican, country. I love country.
Where is the most amazing place music has taken you?
Japan. I haven't really traveled a lot in the U.S. I went to California and Las Vegas. I really want to go to the East Coast. I've never been to The Grand Ole Opry. I would faint if I go in there.
Who has been your biggest musical influence?
Uncle Johnny Lum Ho. His creativity in the music and the stories behind the songs is really intriguing and interesting. I love his music.
How did you start working with Uncle Johnny Lum Ho?
Back in 1989 I had a job as the Hawaiian Trio on a cruise ship, and everytime I would dock in Hilo I would watch Uncle Johnny Lum Ho's show. I fell in love with their music, and I ended up quitting my job on the ship and I went to Hilo to play music with them. So since 1990 I've been performing at Merrie Monarch with Uncle Johnny.
What is it about falsetto that you love?
The sounds and the feeling. It comes from within.You cannot just use your throat, you have to use your soul. You have to push it. It's a beautiful feeling.
Aside from music, what else fills up most of your days?
Stay home, help my mom and go to the beach.
What has been your biggest musical accomplishment?
Just making my CDs. It's a challenge in itself, but it's also such a joy.
What else do you want to accomplish musically?
I still want to make more recordings. I want to travel more. When I see people happy, that makes me happy.
Is there anything you want to say to your fans?
I want to thank all my fans and everyone who loves Hawaiian music. And please no burn 'um, buy 'um.
Most Recent Comment(s):