Ginai And Pierre Grill 'Come Together'

By
.(JavaScript must be enabled to view this email address)
Friday - February 10, 2010
|

Del.icio.us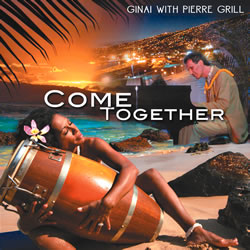 'Come Together' features a collection of Beatles songs
A true Gemini, Ginai's dual personality takes shape in her new album, Come Together.
Alongside friend and music colleague Pierre Grill, the album combines both their innovative spirit and delightful passion for music.
"In it, we try to keep it as organic as possible," says Ginai. "Between the two of us we put out a collection of Beatles songs, our way. It's a collection of 11 songs, and the last is a live recording of us."
Together Ginai and Pierre have produced an amazing collection of styles with lots of different rhythms for every musical taste. To celebrate their achievement, a CD release party is set for Feb. 15 from 5 to 9 p.m. at Du Vin. The party also celebrates Ginai's new and improved Web site that, she says, "promises to be a stunner." The Web site, http://www.ginai.com, is another collaboration that Ginai says builds on the concept of her dual personality.
"On the Web site the two faces of Ginai will emerge - jazz and rhythm and blues," she adds.
Also keeping Ginai busy these days is her regular gig with Hot Club of Hulaville. Currently performing Sundays and Thursday from 5:30 to 9:30 p.m. at Twist at Hanohano, the group is ecstatic that the restaurant will remain open until September rather than the earlier reported March date.
"It's such great news that it will remain open longer," says Ginai. "It's a beautiful restaurant."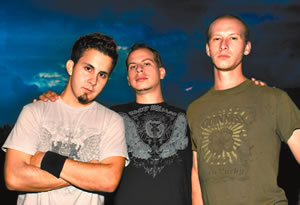 Mike Jones, Marcus Busekrus and LJ Busekrus releases album No. 2 'Welkin'
Another exciting endeavor for Hot Club of Hulaville is a CD scheduled to release sometime later this year or early 2011. The French gypsy jazz band plans to head into the studio soon ...
Tickets also are on sale now for the Makaha Sons' 34th Anniversary Celebration Feb. 22 in Honolulu Academy of Arts' Doris Duke Theatre.
Louis "Moon" Kauakahi, John Koko and Jerome Koko continue to perpetuate traditional Hawaiian music.
This anniversary concert celebrates their time together and reflects back on the songs that have made them one of Hawaii's premier musical groups. The Sons have earned a solid reputation throughout the world for their professionalism, good-fun humor, incomparable vocal arrangements and delightful stage presence. And they have more than 20 CDs and countless Na Hoku Hanohano awards that demonstrate their commitment to the music of Hawaii.
General tickets cost $30; $25 for academy members and are available Tuesday to Sunday, 10 a.m. to 4 p.m., at the academy's main entrance. For information, call 532-8700 ...
High school buddies and brothers Marcus Busekrus (lead vocals/guitar), LJ Busekrus (bass guitar/backup vocals) and Mike Jones (drums) - aka Busekrus - celebrated the holiday season with album No. 2 Welkin.
The 11-track disk gets its name from the archaic English term that means the vault of the sky. It's a word, the group says, that sums up their message: The sky is the limit.
"We have big dreams for our message and our music," says Marcus, "and our intent is to bring it to all corners of the globe - with endless boundaries."
The songs on the album were all written and arranged by the group over the past year. Marcus adds, "They catalog a journey of maturity in our message - from vignettes of love and memories, to powerful social calls-to-action, to political war cries."
The Kailua rock trio's first release, 2008's On The Rocks, led the way to more than 170 shows throughout the state as well as two Mainland tours.
Up next on their calendar: Feb. 19 at Red Lion University, where they'll be sharing the stage with long-time friends Pimpbot ...
The Last Oahu Blues Bash at Anna Bannana's is back for its final curtain call again Sunday, Feb. 14 from 4 to 9 p.m. with its "Five Hours! Five Bands! Five Bucks!" promotion.
The bash features The Dave Young Band, Hot City Blues, with special guest J.P. Smoketrain, Friends of Adam, Corey Funai Blues Band with special guest Jimmy Funai and Waimea Cowboy (Ernie Cruz Sr.).
Kevin's Two Boots will be back as well serving up its popular Cajun food, and emcee for the event is radio host Steve Stoddard of KTUH FM and KIPO FM.
Anna Bannana's, a musical dwelling for the past 30 years and one of Honolulu's most iconic bars, is losing its lease this year, thus next week will be The Last Oahu Blues Bash at Anna Bannana's.
For more information, call Mark Coleman at 386-9047 or e-mail .(JavaScript must be enabled to view this email address) ...
Most Recent Comment(s):