Kamau - Live From the Lo'i

By
.(JavaScript must be enabled to view this email address)
Friday - May 11, 2007
|

Del.icio.us
It's one of those circle of life kind of things - they discovered their mutual passion for music in a lo'i (irrigated taro patch) and the name of their first CD is Live From The Lo'i. Coincidentally, yet fitting, considering that like the kalo (taro), they are products of the aina and their surroundings.
Kamana Beamer (son of musician Kapono Beamer), Adam Zalsow and Kaliko Ma'i'i (son of musician Steve Ma'i'i) are not out to fit nicely into any one music genre. Instead they simply want to be able to express themselves through their lyrics while perfecting their sound.
"Our music is different because we're juxtaposing different styles, and we're not trying to be conscious about playing a certain style," says Beamer. "It's more about the thoughts that we're expressing and the issues we are trying to express rather than the genre we are trying to play."
Connected to a tradition of music, the group welcomes the subtle pressures of taking the Beamer and Ma'i'i music to the next generation. Both families are supportive. In fact, Kamana's dad played a key role in the production of the album.
Of the 15 tracks, 11 of the songs are written by Kamana Beamer. The other four tracks are written by Kaliko Ma'i'i, Desha Beamer and Nona Beamer.
"There are some songs that express what some of us are experiencing politically and some stuff is more personal," says Beamer. "I do have a few songs that give my perspective on relearning our history and relearning our language."
To learn more about Kamau and their new CD release, visit www.kamaumusic.com or www.myspace.com/kamau. Or catch them live at Borders Ward Centre at 8 p.m. May 25 and at rRed Elephant at 6 p.m. May 31.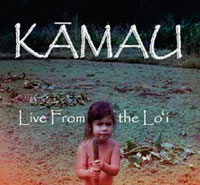 What song do you think you have listened to the most in your life?
Kamana: My dad and my uncle did this song, Ia Oe Ka La. I used to listen to that all the time. I loved how their guitars blended and their flutes. They were playing nose flutes on the track. Kaliko: I would say Catching A Wave. That's my dad's song.
What's your idea of the perfect date? Kamana: I like to cook,so I would probably cook something, and if it's nice go cruise somewhere on the beach or try to get outside.
Adam: Nice romantic dinner with good food.
How many CDs do you own? Kamana: Before they all got stolen I had in the thousands, but my car got ripped off. My collection has dwindled. Adam: Yeah, same thing. I've had mine stolen a couple of times. And so every time it gets harder and harder to buy CDs. I didn't have as much as Kamana, but I had quite a bit.
Kaliko: About 100.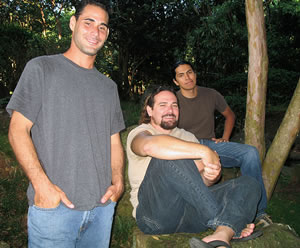 What is the most memorable moment in your life?
Adam: I guess the first time we played Pipeline. It was kinda of like yeah, we're doing this and we're making it. That was about a year and a half ago, before we made this album.
Kamana: This is going to sound weird, but my grandma had heart surgery a few months ago, and when she finally made it out and I got to take her out of the hospital and I got to take her home, that felt super awesome. That felt good.
What's your biggest fear?
Adam: My biggest fear is just ending up being a mean old man.I want to keep that love and compassion for everyone. Kaliko: Not making the best decisions. Kamana: Not being able to support my family in the future, and not living up to my kuleana (responsibilities).
What is your favorite hole-in-the-wall eatery?
Adam: Samira's on 10th Avenue in Palolo.
Kamana: I've been eating a lot of Kikuya in Kaneohe.They get that lunch and dinner special.
Kaliko: It was Leong's, but they closed down.
What's your best G-rated joke? Kamana: The Portuguese guy is running around with a car door and everyone is like brah, what you doing with one car door? And the Portuguese is like, brah, it's been so hot lately, when I get hot I can roll down the window. Adam: Brah, that's from like third grade. That's like the oldest one in the book.
Most Recent Comment(s):