Opihi Pickers

By
.(JavaScript must be enabled to view this email address)
Friday - April 11, 2008
|

Del.icio.us
The 411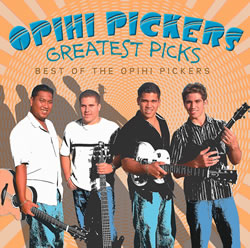 After a 13-year run, the Opihi Pickers (Imua Garza, Hoku Garza, Kevin Okimoto and Kahale Morales) have decided they need a well-deserved break.
The guys are commemorating their successful musical career with a farewell Island tour scheduled in April, a final performance scheduled on June 11 at Ryan's Grill and the release of their greatest hits album, Opihi Pickers Greatest Picks.
The album features all the Opihi Pickers' original hit recordings plus two brand new Opihi Pickers songs, Solo Flight and Brighter Day, that fit perfectly with this release.
"Solo Flight, I wrote that like four or five years ago actually," says Imua."It's just one of those songs that's saying, 'Don't worry if we go separate ways, but we'll be back together someday, however long that may be.'"
The second song, Brighter Day, is an optimistic look to the future that gushes with positivity, which is exactly the note that the guys want to end on.
"Only time will tell what's going to happen, but we're all family and there's absolutely no bad vibes between any of us," adds Imua."We have been playing like every weekend for the past 13 years, but it's not like a burnout thing. It's just time to push 'pause.' I feel we'll get back together again."
The album also features familiar tracks such as Our Love Is Divine, Old Fashioned Touch, You're All I Need, Beautiful Ladies, When Eye Meets Eye, Victim, Let's Call It A Day, My Melody, Destiny, Love You Forever, Ever Since, Do You Think Of Me, Love Is All and All For You.
Imua, Hoku, Kevin and Kahale have a lot going on and will continue to pursue music within their own individual endeavors.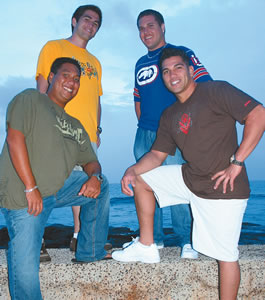 Opihi Pickers: (clockwise, from left) Kevin Okimoto, Imua Garza, Kahale Morales and Hoku Garza
Imua is working on a solo album, which he says will have "all-around flavor." The album is currently in the writing stages and will include all originals. He also will keep busy with the production and engineering side of the music business with a solo album by his wife,Tiffany, a solo album by his sister-in-law Connie Cruz and a group album featuring the three of them also in the plans.
"We're going to be touring a lot in the Mainland and doing some things there," adds Imua. "So we'll have, like, four albums when we go on the road."
Besides holding down a day job, Hoku also is a fire knife dancer for Tihati and he plays drums or guitar for some of his friends who have bands.
Kevin and his friend Kalani Kealoha recently started a band called Kahakea.
And Kahale is getting his music fix playing bass for Rebel Souljahs.
A farewell send-off wouldn't be complete without a list of thank-yous from the band, beginning with the two individuals who have arguably been the group's biggest supporters: Imua's and Hoku's parents.
"Our biggest supports have definitely been my parents, because they were actually our first managers starting off. I was 9 when we started,"says Imua."They would take us around to all the gigs with a small little car and all of four of us and the sound system. I was really blessed to have that."
A close second on the list of supporters is current manger Brett Ortone, who Imua says has seen the group through the tough times.
"He is the one that really seen us in the roughs and really helped us tone our skills and focus," says Imua."He's just been pouring into our musical careers for a long time. He's been with us for about seven years."
The Opihi Pickers will make their way across the state to say their goodbyes with Katchafire. The concert dates are April 19 in Kona, April 25 at UH-Manoa for Aloha Bash, April 26 on Kauai for the One Love Reggae Festival, and finally Ryan's Grill, a familiar venue fo the guys, where they'll have their final show from 9 p.m. to midnight. For more information, visit www.myspace.com/opihipickersofficial
Most Recent Comment(s):